Before you pick your new canine companion, keep in mind that many large dog breeds are prone to joint issues. Other hereditary health conditions are also likely to show up in hybrid dogs if both parents are carriers of the same genetic problems.
This is why it is important to know which breeds your dog comes from so that you can take the necessary precautions. To do so, you'll need to test your Dog's DNA.
We've reviewed several brands of Dog DNA Test kits based on their accuracy, features and ease of use. These dog DNA test kits can tell you if your pooch is likely to be affected by certain health conditions.
Learn More About Your Small Hybrid
Best Dog DNA Test Kits
Wisdom Panel™ Essential
Test for 350+ breeds
Trace your dog's ancestry
Screen for 25+ medical complications
35+ trait tests
Embark Breed Identification Kit
Test for 350+ breeds
Trace your dog's ancestry down to 5%
Health screening (at an extra cost)
20+ Trait Tests
Embark Breed Identification & Health Screening Kit
Test for 350+ breeds
Trace your dog's ancestry down to 5%
Health screening (at an extra cost)
20+ Trait Tests
2021 Large Hybrid Dogs List
Top 10 Large Hybrid Dogs
There's something for everyone when it comes to large hybrid dogs. You'll find gentle giants, jogging buddies and 100-pound dogs that simply want to sit in your lap. Whether you're in an apartment or own a house with an ample yard, there is a larger-than-life pup for you.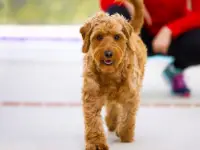 10. Goldendoodle
(Golden Retriever x Poodle)
Probably one of the most well known hybrids, the Goldendoodle is super cute. We've seen very large ones and others that are medium sized. It probably depends on what size Poodle the Golden Retriever was crossed with.
They're known for being affectionate, alert, cheerful, courageous, energetic, friendly, intelligent, loyal, playful, and social. The Goldendoodle enjoys being around other humans and pets – ideal for families.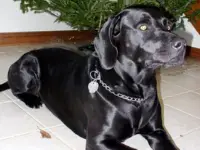 9. Labmaraner
(Labrador Retriever x Weimaraner)
The Labmaraners are affectionate, active, loyal and well-mannered with a good protecting tendency. They have a muscular body and a fully grown they can stand up to 24 inches at the shoulder and weight may range from 60-100 pounds.
The Labmaraners are the intelligent dogs and are highly energetic dogs that require daily exercise. Being offspring of Weimaraner and Labrador, they tend to be good runners and excellent swimmers.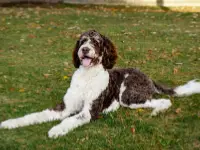 8. Bernedoodle
(Bernese Mountain dog x Poodle)
You'll want to play with this hilarious, social breed, and it works out perfectly; Bernedoodles need human interaction in order to learn.
The most common colors for Bernedoodles are black, black and tan, brindle, and white. Their wavy coats require regular brushing. They're considered a working group of breed with talents in obedience, agility, watchdog and tracking.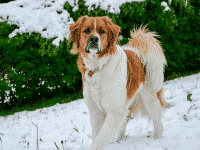 7. Golden Saint
(Golden Retriever x Saint Bernard)
Don't they sound angelic? The Golden Saint is a gentle giant that loves its family. They're good with kids and are known to be playful, energetic, and affectionate around them. They are also friendly toward other pets.
Golden Saints can weigh from 100 lbs to 220 lbs with a height up to 36 inches. The most common colors for Golden Saints are black, brindle, brown, cream, golden, merle, speckled, spotted, white, and yellow. To keep them healthy, they need a moderate amount of regular exercise.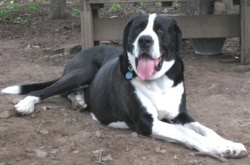 6. Saint Dane
(Saint Bernard x Great Dane) + cousin to the Golden Saint
Saint Danes define "gentle giants." They're big, protective and wonderful with children, which makes them a good family dog.
They have silky coats, are incredibly loyal and need playful interactions and exercise. They are intelligent and the size of Saint Danes makes them very protective.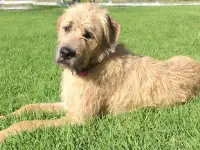 5. Irish Mastiff
(Irish Wolfhound x Mastiff)
The Irish Mastiff is known for being gentle, loving, and loyal. They're multi-talented and can participate in a wide variety of activities such as agility, competitive obedience, and search and rescue.
This large breed dog can stand up to 38 inches and weigh in between 120-250 pounds. The most common colors for Irish Mastiffs are black, black and tan, gray, red, silver, and white. To keep your Irish Mastiff healthy, he'll need regular exercise.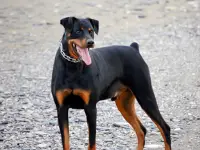 4. Rotterman
(Doberman Pinscher x Rottweiler)
Based on the parents, you know the Rotterman will be a great watchdog. The Rotterman is an independent, loving, protective dog. They typically get along great with people and other dogs. However, care needs to be taken to socialize these large dogs as a young pup or they can become very wary of strangers and children.
The thick coat of the Rotterman needs frequent brushing and they are heavy shedders. They are extremely strong and very agile. With all that energy, they definitely need plenty of daily exercise.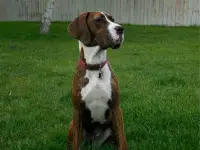 3. Boxapoint
(Boxer x German Shorthaired Pointer)
The Boxapoint is an active, smart, well behaved and very dedicated to the entire family. They love to play, sleep and go everywhere you go. They do not like to be left behind. The Boxapoint can do almost any task asked of them. They are stronger and faster than they first appear.
The coat of the Boxapoint is very easy to groom, however, they are heavy seasonal shedders during the spring and fall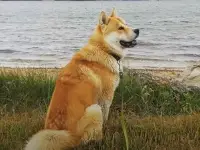 2. Chusky
(Chow Chow x Siberian Husky)
The Chusky is an extremely smart, funny and playful dog, yet at the same time, protective of their family and always alert. The Chusky can be laid back, loving and protective of people, but some are not good with other dogs unless socialized as a puppy.
The Chusky does not tolerate the heat very well. If you live in a hot climate, they need to be an inside dog or have somewhere cool to get out of the heat. The Chusky is a heavy shedder and should be brushed at least once a week.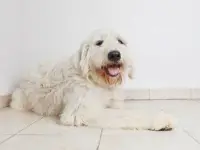 1. Pyredoodle
(Great Pyrenees x Poodle)
Ok, we're a little biased here because the Pyredoodle looks like a giant version of our dog.
The Pyredoodles are sweet, calm and smart dogs – intelligent and highly trainable. They are an affectionate, family dog that likes to be the center of their family's attention. (Given their size, you'd imagine they can easily put themselves in the center of the situation).
The Pyredoodle is kind and cordial toward children. They get along with other canines and pets at home, if socialized with them properly and sufficiently.
Why Crypton Dog Beds Are No Longer a Dogsized Top Performer?
Plus Our 2021 Top 4 Recommended Dog Beds
It is no wonder why Crypton Dog Beds became hype when they were first introduced in the market. After all, their maker, Crypton, offers one of the most powerful performance upholstery fabric solutions in the world.
Dog owners hailed its stain, moisture, odor, and bacteria-resistant features, but things have changed.
Recently, we received tips that Crypton Dog Beds aren't as durable as fur parents hoped.
So we did a little digging and found out these top three reasons why former Crypton Dog Bed users moved away from this brand —
dogs don't find it cozy
not warm enough
cushions pancake
The bottomline is though Crypton Dog Beds used to be a great product, we now have enough reasons why we're placing this designer dog bed in our "Former Top Performer" list.
Now, if you're looking for the best dog bed that your fury friend would actually love, don't worry because we've reviewed some other amazing dog bed options!
Our Dogsized Top Dog Bed Recommendations for 2021
Taking both comfort and style in to consideration, here are Dogsized Top Dog Bed Recommendations for 2021: