You need more than a large dog bed if you have a giant pooch. Choose the perfect dog bed to give your large pup the ultimate comfort they deserve. Discover the best options for extra large dog beds, from orthopedic to memory foam.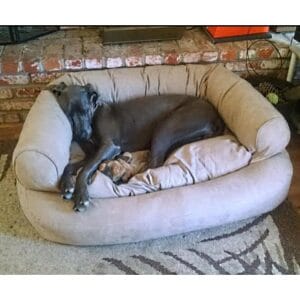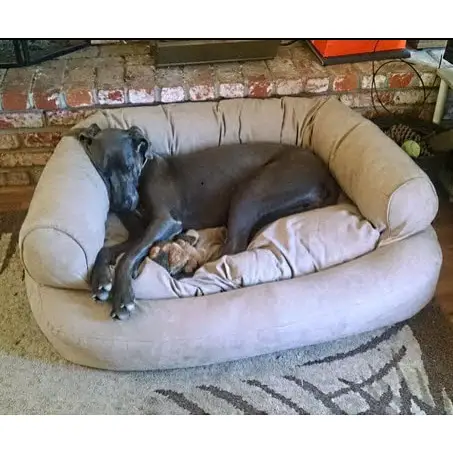 It doesn't matter how big your dog gets – they will always manage to find amusing, often improvised beds. Sometimes, your pup passes out on the couch. Maybe they prefer the floor. Most of the time, though, it seems like our 70+ pound pets love claiming a portion of the bed.
Finding extra large dog beds
If you're searching for your dog's next cushion, we've compiled a list of extra large dog beds (all linked for easy shopping).
1. Ripple Velour Napper Bed
Is your large dog a cuddler or snuggler? Jax and Bones, an eco-friendly luxury dog bedding company, provides a variety of plush velour cushions for dogs up to 75 pounds (large) and 100 pounds (XL).
Senior dogs will also comfortably fall fast asleep with an overstuffed, tufted center pad and bolster.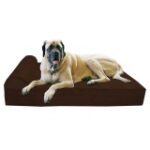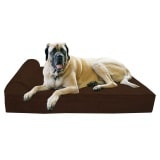 2. Orthopedic Large Dog Bed with Headrest
This dog bed has almost 1,000 reviews on Amazon and has a 5 out of 5 rating! Wow – impressive!
Specially calibrated for bigger dogs, their beds come with a 10 year guarantee that the foam will retain 90% of its original shape & loft for 10 years or your money back. Handmade in the USA by craftsmen with over 30 years of experience.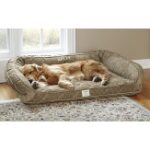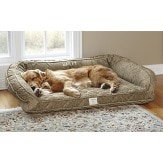 3. Deep Dish Dog Bed With Memory Foam
The Orvis Deep Dish Dog Bed looks so comfortable – we want to take a nap in it! Underneath the plush microfiber cover is a 4″-thick cushion of supportive memory foam designed specifically for dogs.
Memory foam not only supports dog joints and muscles, but also helps maintain your dog's body temperature for optimum comfort.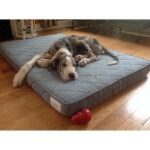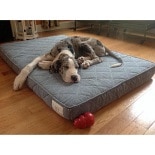 4. Brentwood Gel Memory Foam Orthopedic Pet Bed
This bed offers excellent comfort and support for your dog.
The 4-inch high bed has 2-Inch of gel infused memory foam that shapes and conforms to your dogs curves to relieve pressure and prevent body aches. The gel particles keep the bed cool and comfortable; while the orthopedic base layer provides therapeutic support.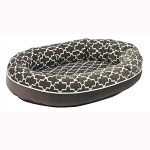 5. Diamond Series Microvelvet Designer Dog Bed
Bowsers creates some fabulous beds for dogs! This extra large 50-by-36-inch round bed comes in solid, lattice and herringbone micro velvet designs with a built-in cushion.
Even if your dog has a pattern of taking out inner pillows, the Bowsers Dog Bed and its orthopedic foam will stay put.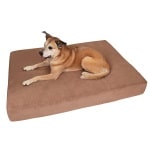 6. Seven-inch Pillow Top Orthopedic Dog Bed
Big-and-tall dogs need big-and-tall beds.
Big Barker is so dedicated to its furry customers that it provides large, extra large and giant bed sizes up to 60 inches/5 feet.
Solid, microfiber covers surround a seven-inch comfort and support foam combination that eases young pups and protects dogs with ailments like joint pain and hip dysplasia.
7. Luxury Overstuffed Microsuede Dog Bed
Overstuffed large dog beds can ensure your dog enjoys a super tranquil nap.
This Snoozer bed comes up to a 39-by-28-inch sofa with removable thick microsuede bolsters to entirely immerse your dog in relaxation. The comfortable microsuede fabric is zipper removable for easy cleaning, ensuring no odors develop.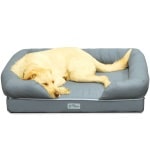 8. Ultimate Dog Lounge & Bed With Memory Foam
With premium materials, quality construction, and smart features, your dog will be extra comfortable in this Ultimate Dog Lounge.
Base and bolsters provide optimal support and comfort. It has a non-skid bottom and a water resistant and anti-tear cover.

The Importance of Finding the Right Bed for Your Large Breed Dog
When it comes to our furry friends, we want to provide them with all the comfort and love they deserve.
One of the most important factors in a pet's comfort is a good quality bed. Large dog breeds, in particular, require extra space to stretch out and rest their joints. Therefore, finding the perfect extra-large dog bed is crucial for their well-being.
Here are some of the best extra large dog beds on the market:
Big Barker 7-inch Pillow Top Orthopedic Dog Bed: This bed is designed to support your dog's weight evenly, making it perfect for large breeds. Its machine-washable cover and pillow top provides ultimate comfort and durability.

PetFusion Ultimate Dog Bed and Lounge: With its solid 4-inch memory foam base, this bed is perfect for giant dogs who need extra support. Its water-resistant and tear-resistant cover ensures maximum longevity.

BarksBar Orthopedic Dog Bed: This bed is made of solid orthopedic foam that provides joint relief while sleeping. Its soft and cozy cotton-padded walls provide a sense of security and comfort.

K&H Pet Products Self-Warming Lounge Sleeper: This cave-style bed is perfect for dogs who like to snuggle and feel secure. The fleece sleeping surface and self-warming layer make it a cozy bed for cold winter nights.

Kopeks Extra Large Memory Foam Dog Bed: This bed features a 7-inch thick memory foam base that will never flatten over time. Its waterproof liner and machine-washable cover make cleaning easy and hassle-free.
In conclusion, finding the perfect bed for your large breed dog can greatly affect their comfort and well-being. Be sure to consider the size, material, and type of bed that suits your dog's needs best. With the right bed, your furry friend will sleep soundly and feel refreshed, ready for another day of adventure.
ALSO READ