Dreaming of a cool dog house for your best friend? Are you tired of seeing the same old boring dog houses everywhere? If so, it's time to check out the modern dog house trend that has been taking over the pet world.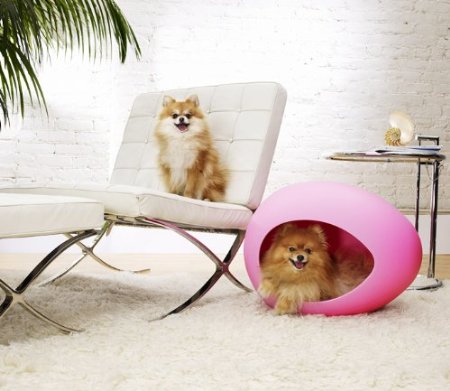 Have you been lamenting that your small dog's bed is an eye sore and definitely not modern enough for your home?
Well look no further… designed around your pet's instinctual needs, pEi Pods are safe and nurturing habitats that complement your living space – and it's definitely a cool dog house.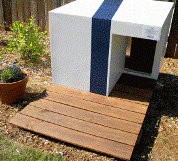 The rounded design mimics cave-like sanctuaries that animals gravitate instinctively toward for protection and relaxation, while the sleek, elliptical exterior accents your interior design and enhances your living space.
It's safe, very durable, easy to clean, and recyclable (both the pillow and pod).
Why Some Dog Owners Love a Modern Dog House
A modern dog house is not only stylish, but they also provide a comfortable and safe space for your furry friend.
These houses come in all shapes and sizes, from minimalist cube designs to unique geometric shapes. Some even have eco-friendly features such as solar panels and rainwater collection systems.
One popular trend in modern dog houses is the use of natural materials such as wood and stone.
These houses blend seamlessly into any backyard and give your pup a cool and cozy place to relax.
Another trend is the use of bright colors and bold patterns to make the dog house a statement piece in your yard.
But modern dog houses aren't just a style statement – they also have practical features that make them perfect for pet owners.
Many modern dog houses come with built-in insulation, air conditioning, and heating to keep your dog comfortable in all types of weather. Some even have self-cleaning features, making it easier than ever to keep your pup's home clean and fresh.
Modern Dog Houses Round Up
Overall, the modern dog house trend is all about creating a beautiful space for your furry friend to call home. With so many unique designs and features available, there's a modern dog house out there that's perfect for you and your pet.
So why settle for a plain old dog house when you can give your pup a stylish and comfortable home that they'll love?
ALSO READ