Top 10 Small Hybrid Dogs
What Are Hybrid Dogs?
Hybrid dogs are offspring of two different purebred dogs. They are becoming more and more popular that they've become known as 'designer dogs' because celebrities love them—especially the small hybrid dog breeds.
Though hybrid dogs are commonly bred to have the positive characteristics of both the parents' breeds, the resulting pups are not always guaranteed. Their traits, temperament, color, and other attributes are more unpredictable than dogs bred from the same breed. Hereditary health conditions are also likely to show up in crossbred dogs if both parents are carriers of the same genetic problems.
This is why it is important to know which breeds your dog comes from so that you can take the necessary precautions. To do so, you'll need to test your Dog's DNA.
We've reviewed several brands of Dog DNA Test kits based on their accuracy, features and ease of use. These dog DNA test kits can tell you if your pooch is likely to be affected by certain health conditions.
Learn More About Your Small Hybrid
Best Dog DNA Test Kits
Wisdom Panel™ Essential
Test for 350+ breeds
Trace your dog's ancestry
Screen for 25+ medical complications
35+ trait tests
Embark Breed Identification Kit
Test for 350+ breeds
Trace your dog's ancestry down to 5%
Health screening (at an extra cost)
20+ Trait Tests
Embark Breed Identification & Health Screening Kit
Test for 350+ breeds
Trace your dog's ancestry down to 5%
Health screening (at an extra cost)
20+ Trait Tests
2021 Small Hybrid Dogs List
Top 10 Small Hybrid Dogs
Between the 'poo's and the 'chi's, you can't help but smile at some of these small hybrid dog breeds. You'll really fall in love with them when you see their curly coats and pointy ears, big personalities and just how much affection they have for their humans. Here are our favorite Top 10 Small Hybrid Dogs: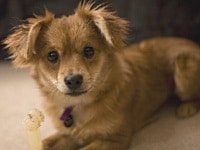 10. Dameranian
On top of a Dachshund's body and Pomeranian facial features, the Dameranian has a long coat in a range of dark and light colors. They're loving, social dogs who need to play. Dameranians are also an intelligent hybrid, which should make training less difficult.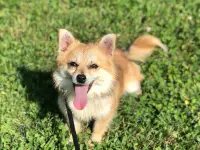 9. Pomchi
When it comes to hybrid dogs, Pomchis take the top spot for big personality. You'll always see the Pomeranian-Chihuahua breed come toward you with love (and you'll also see its pointy ears). Pomchis are also brave – even though they stand between 6 to 10 inches.
8. Yorkiepoo
If you're an energetic person, your companion dog is a Yorkiepoo, a cross between a Yorkshire Terrier and Toy or Miniature Poodle. Both of its parent breeds are intelligent, hypoallergenic ones, meaning the Yorkiepoo is a smart pooch with a wavy coat that won't shed.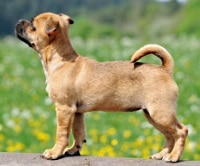 7. Jug
Although its coat will vary, you can bet a Jug's ears are flapping when it runs toward you. The Jack Russell Terrier-Pug hybrid is mostly low maintenance, although they are active dogs. You'll often see its scrunched, Pug-like face socialize with other pets, making it a great hybrid for those already with animals.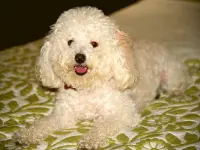 6. Maltipoo
Maltipoos can easily go from cuddling up in your lap to going out on a walk. The Maltese-Poodle hybrid is a sweet family pet that barely sheds. Maltipoos can get a bit clingy so they shouldn't be left along for long periods of time.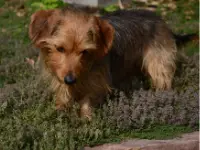 5. Dorkie
Children and other pets will enjoy having a caring Dorkie around. The breed, a Dachshund-Yorkshire Terrier mix, comes with a long, medium thick coat and not many exercise needs. They can be a little stubborn, but these pups are trainable.
4. Cavapoo
You would think a teddy bear is somewhere in this dog mix, but Cavapoos are part Cavalier King Charles Spaniel and Poodle. Their curly coats require grooming, and their loving personalities require a family-oriented human. Cavapoos' social attitudes are great for children, too.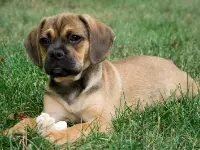 3. Puggle
Puggles, a hybrid with a Pug's wrinkly face and Beagle's muscular body, are family and dog friendly; you'll often see them look for some form of human contact. Because they're so easy to befriend and get along with, you'll be playing with a Puggle in no time.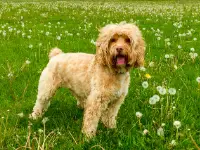 2. Cockapoo
Small dogs still need exercise, and a Cockapoo (combination of an American or English Cocker Spaniel and Poodle) is no exception. From playing fetch to swimming, Cockapoos are great family pets who will thank you for walks to the park.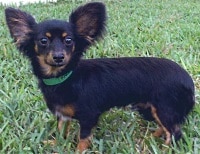 1. Chiweenie
It's not only the small stature that makes Chiweenies great for children, but also the dogs' cheerful attitude. Chiweenies, a Dachshund-Chihuahua mix, can be difficult to train. However, the active, petite pups are low maintenance and wonderful additions to families with children.
Why Crypton Dog Beds Are No Longer a Dogsized Top Performer?
Plus Our 2021 Top 4 Recommended Dog Beds
It is no wonder why Crypton Dog Beds became hype when they were first introduced in the market. After all, their maker, Crypton, offers one of the most powerful performance upholstery fabric solutions in the world.
Dog owners hailed its stain, moisture, odor, and bacteria-resistant features, but things have changed.
Recently, we received tips that Crypton Dog Beds aren't as durable as fur parents hoped.
So we did a little digging and found out these top three reasons why former Crypton Dog Bed users moved away from this brand —
dogs don't find it cozy
not warm enough
cushions pancake
The bottomline is though Crypton Dog Beds used to be a great product, we now have enough reasons why we're placing this designer dog bed in our "Former Top Performer" list.
Now, if you're looking for the best dog bed that your fury friend would actually love, don't worry because we've reviewed some other amazing dog bed options!
Our Dogsized Top Dog Bed Recommendations for 2021
Taking both comfort and style in to consideration, here are Dogsized Top Dog Bed Recommendations for 2021: