Have you experienced the Chihuahua personality? If you're looking for a pint-sized pup with a personality that packs a punch, look no further than the Chihuahua.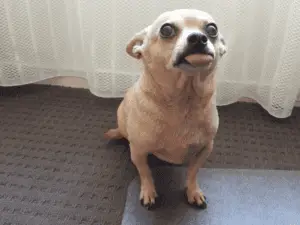 The Chihuahua is renowned for being the smallest breed of dog (weighing approximately 3-6 lb); Chihuahuas think they're the largest dog in the room.
Chihuahua Personality
Despite its small size, this breed is known for its big-dog attitude and larger-than-life personality. From their sassy demeanor to their fierce loyalty, Chihuahuas are truly one-of-a-kind.
If you dive into the fascinating world of Chihuahua personalities, explore why these tiny dogs have such huge spirits!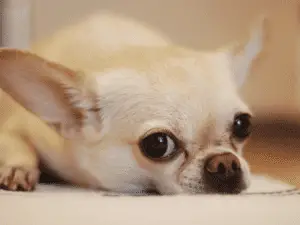 Named after the state of Chihuahua in Mexico, they come in a wide variety of sizes, head shapes, colors, and coat lengths.
Whether in New York, Los Angeles, or anywhere in between, you've likely seen a lot of Chihuahuas. Every once in a while, you might even get a little surprise when one unexpectedly pops his head out of a ladies' handbag.
Celebrity Chihuahuas
This enthusiastic little dog is a favorite among celebrities.
Paris Hilton is well known as an owner of many Chihuahuas (10+) and some have credited her with using her dogs as an accessory.
On the other end of the celebrity dog ownership spectrum – Sandra Bullock has an adopted two-legged Chihuahua named Ruby and a three-legged Chihuahua-Pomeranian mix named Poppy. Two dogs and 5 legs in total.
Somewhere in the middle, we've got Hillary Duff and her Chihuahua, Lola. And, of course, we could never forget Bruiser the Chihuahua from the movie Legally Blonde starring Reese Witherspoon.
We recently spoke with Cathy from I Love My Chihuahua to give us the scoop on this cute little dog.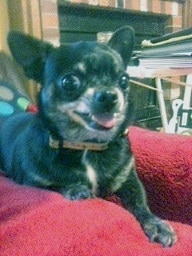 How did your Chihuahua come to join your family?
My neighbor had a Chihuahua, and she kept getting out. Over and over, I rescued that little "Chi" because she would just stand in the middle of the road and bark. She's black, and so cars would never see her in time.
Finally, my neighbors moved away and left her behind (gasp!). My son rescued her and wanted to keep her for himself, but Kilo decided I was to be her pet parent. She's been a wonderful companion.
Kilo's favorite toys are a stuffed giraffe and a talking babble ball. Other than those 2 things, she pretty much ignores toys. She does love burrowing under blankets (all Chihuahuas do, especially since they tend to be cold a lot).
Any Grooming Tips?
Chihuahuas are fairly easy when it comes to grooming. They do tend to have dental problems so brushing their teeth at least a few times a week will help prevent or minimize dental issues.
Chihuahuas do shed but not a lot compared to some other breeds. They come in smooth coat (short hair) and long haired. The long haired version does need brushing at least every other day.
Other than clipping their nails when needed, and a bath every 2-3 weeks, that's all the grooming they need.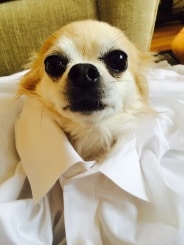 Chihuahua Training
Many people think Chihuahuas are hard to train, but actually, they're not. The Chihuahua is highly intelligent. They tend always to try to be the Alpha in the house.
So the trick is that you need to let them know that you are the Alpha, in a kind and loving way, of course. Consistency is key with them. You can't let them get away with something one time and not the next.
Obedience training (for you and your dog) should be considered to ensure your Chihuahua becomes a well-behaved companion.
When taking your Chihuahua for a walk, we suggest you do not use a typical leash and collar. Because of their fragile necks, use a harness with their leash.
Because of their small size, they require little exercise and are good city dogs, but can be sensitive to cold temperatures.
Products for Chihuahuas:
Royal Canin Chihuahua Dry Dog Food
Royal Canin Chihuahua Puppy Dry Dog Food
Apparel for Chihuahuas – Voyagers
Enchanted Home Pet Beds
Chihuahua – Animal Planet Dogs 101
Avant Garde Chihuahua Retractable Dog Leash