Having a new dog join your family is a major life event, whether it's a puppy or an adult dog that you've adopted, we think it's something to celebrate!
As with a baby shower, it's certainly helpful to get some supportive advice and tips from other friends that are dog parents. There's also no reason why you can't register or have a gift list as there's actually quite a few things you need to get for your new dog, especially if it's a puppy!
Two important decisions to make are:
When to have the New Dog / Puppy Shower?
Will the party include other dogs?
If you're getting a puppy, you might want to have the shower before your puppy comes home with you so you can get your home all set up, especially for house training.
You could do the shower when your new puppy arrives, but a puppy generally will not have its full round of vaccines yet, so then you would likely not want to have other dogs attend.
If you are bringing home an adult dog, you might prefer to have the party with some other mellow and friendly dogs so he/she can start to socialize with other dogs in your circle of friends. Make sure that you have a place at the party for your new dog to escape and retire to (e.g. a crate) in case he gets tired or is overwhelmed.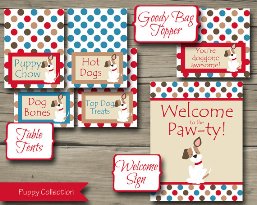 Next step is to plan the party, as you would any other party at your home. If you're the type of person that likes a full themed party, there are quite a few vendors that have full dog/puppy party supplies from invitation cards and balloons to tableware and baked treats and even beer for dogs. Remember to cater for both the humans and the dogs. Avoid having any foods that can be bad for dogs. Just in case, you might want to have a few pee pads around the paw-ty area.
New Dog / Puppy Gift Registry
You've probably bought loads of gifts for baby and wedding showers. No reason why you can't have a new dog gift registry – there's actually quite a few things a new dog needs. Not sure what to put on the registry? Check out our new puppy list!