Are you always on the hunt for toys for dogs that love to play fetch? Do you sometimes wish he would just play fetch by himself?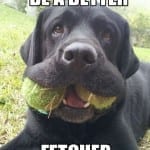 Well, someone has come up with a solution for that! This brilliant invention called the iFetch allows your dog to play fetch with himself.
Your dog drops the ball into the large blue funnel on one side and the ball shoots out on the other.  It's an on-demand ball launcher! Check out this quick video to see how it works:
Of course, you'll probably need to train your dog to use the iFetch (unless your dog is an Einstein-dog). They recommend you train your dog with the iFetch at most three times a day and only for ten minutes at a time.
It's recommended that your dog be supervised while playing with the toy. If your dog is a heavy slobberer the iFetch may require wiping off balls from time to time.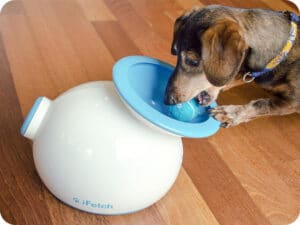 How is the iFetch powered? All you need to do is plug it in (or insert 6 c-cell batteries), press the button on the back, drop in the special ball, and it's playtime.
Unfortunately it's not created to use with full sized tennis balls. iFetch is designed to work with iFetch balls which are 1 ½" diameter.
iFetch was created by the Hamill Family from Austin, Texas. Their toy poodle, Prancer, kept begging them to play fetch. As we all know, sometimes you just don't have time to play fetch.
The patriarch, grandfather Denny, figured they could develop something that could throw the ball for Prancer and would be a fun family project.
After several months and hundreds of hours of prototyping, testing, and refining, they launched a Kickstarter campaign.
Within 30 days, they had more than 1,000 backers and they received $88,000 in funding – more than four times the original goal.
Clearly there were a lot of other dog families that could really use an on-demand ball launcher too!
The iFetch is now available for any dog family (click to purchase). Your dog will have endless fun with their new toy!
ALSO READ