If you're a dog owner with a large breed like a German Shepherd, you know how important it is to find tough dog toys that can withstand their aggressive play and heavy chewing.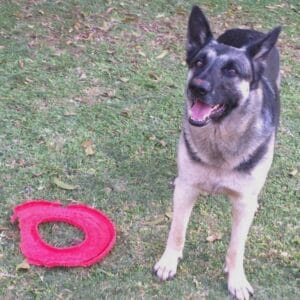 Meet Lucky, a gorgeous German Shepard and Dogsized fan. She's written to us recently to say she loves getting gifts, but these recent toys she received didn't cut the mustard.
She wants some really tough dog toys! We can see she's killed this poor frisbee into a limpy mess.
We didn't want to keep her waiting, so we sprang into action to find her some tough dog toys.
Tough Dog Toys We Love
First on the list is the Chuck it Flying Squirrel. It is a canvas toy / frisbee that also floats, one side is blaze orange and the other is blue.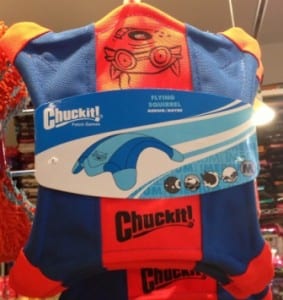 The feet glow in the dark after being exposed to light for night time fetching. 
I've read some posts from pit bull parents that were really happy about this toy as it was durable enough and fun for their dog.
Clearly, Lucky likes her frisbees, so we thought she should get another good frisbee: the Floppy Disc.
Our dog Kobi loves the Floppy Disc, too, and we think it would be durable enough for an energetic German Shepard when their young, but something like the giant Kong would be more suitable.
We think Lucky would also love some food stuff toys, so we recommended that she try out a Kong.
She's never had one before, so we'll see how she likes it. The KONG Squeezz Jels also have good reviews for aggressive chewers.
Lucky will soon be getting a care package of her "tough dog toys." We're hoping she likes these new ones, and they last a while.
Lucky – please let us know how this new selection does! We promise to keep searching until you have the perfect toy!