Dogs are our members of the family, and as dog owners, we want to ensure that our pups are safe, comfortable, and happy during travel, whether a quick vet trip or a long journey. Finding the right pet carrier is crucial, and we're taking a look at the Sturdibag pet carrier.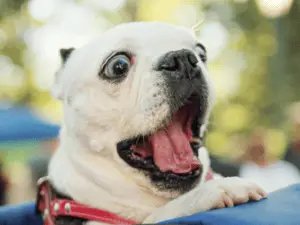 SturdiBag pet carriers come in a few sizes for dogs and are a great option for traveling with your pet. They are lightweight and easy to carry, and they provide a safe and comfortable place for your pet to ride. But we don't necessarily recommend all Sturdibag carriers.
If you are looking for a durable and safe pet carrier for your small to large dog, the SturdiBag Pro 2.0 is a great option, but in the guide below, we give you a few competitor options as our Editor's Choice.
Ultimate Pet Carrier Companion Guide 
Here is the latest information about SturdiBag pet carrier sizes for dogs:
---
This carrier is designed for large dogs up to 40 pounds. It measures 18 inches long, 12 inches high, and 12 inches wide.
Check price
---
SturdiBag™ Pro 2.0 Size Medium
This carrier is designed for medium-sized dogs up to 30 pounds. It measures 18 inches long, 12 inches high, and 12 inches wide. Carrier weighs 2.87 lbs.
Check price
---
This carrier is designed for small to medium-sized dogs up to 20 pounds. It measures 18 inches long, 10 inches high, and 10 inches wide. Unfortunately, the Sturdibag small pet carrier doesn't cut it. We think there are much better options on the market. Take a peek at our editor's choice for small dog carriers. 
See Editor's Choice
---
This carrier is designed for small dogs and cats up to 10 pounds. It measures 15 inches long, 10 inches high, and 10 inches wide.
See Editor's Choice
---
SturdiBag™ Pro 2.0 Size XL
This carrier is designed for extra-large dogs up to 40 pounds. It measures 20 inches long, 16 inches high, and 16 inches wide. We are disappointed that this carrier is considered extra large but only has a weight capacity of up to 40 pounds.  There is an XXL that only holds up to 45 pounds.
SturdiBag Construction
We appreciate the construction on the large pet carriers, but as you can see from our recommendations above, there may be some better options. All SturdiBag pet carriers are made of durable nylon and mesh and come with a padded bottom and a carrying handle. They also have a zippered door and a ventilation system to keep your pet cool and comfortable.
SturdiBag pet carriers are a great option for traveling with your pet. They are lightweight and easy to carry, and they provide a safe and comfortable place for your pet to ride.
If you are looking for a durable and safe pet carrier for your small to large dog, the SturdiBag Pro 2.0 is a great option. The company offers a variety of products suitable for different types of pets, including cats and dogs. Sturdibags are designed with both pets' and owners' needs in mind.
It provides an easy way to transport your furry friend while also giving you peace of mind knowing they're secure inside. In the following sections, we will examine what makes Sturdibag unique and why it's worth considering as your next pet carrier purchase.
The Sturdibag Design
Sturdibags are known for their unique design that sets them apart from other pet carriers. These bags are made with high-quality materials and feature several benefits, making them a reliable choice for carrying your pet.
One of the critical features of Sturdibags is their sturdy construction, which ensures that the bag will hold its shape even under pressure. This means that your pet will have a stable and comfortable environment to travel in.
In addition to their sturdy construction, Sturdibags have several other design features that enhance their functionality. For example, they have plenty of mesh windows and ventilation holes to provide fresh air circulation for your pet.
This is especially important during long journeys when pets get overheated or stressed out in confined spaces. Additionally, many Sturdibags come with pockets for storing pet essentials like treats or toys.
Different types of Sturdibags available in the market
Sturdibags come in several different types to suit different needs and preferences. One popular type is the Soft-Sided Pet Carrier, which is lightweight and easy to carry. These bags are perfect for short trips or errands where you must take your pet with you.
If you're looking for something more heavy-duty, a SturdiTote might be a good option. These bags have reinforced sides and a sturdy frame, making them ideal for airline travel or longer road trips.
There's the SturdiBox – a unique pet carrier that provides extra space and comfort for your furry friend during travel. The box-like shape gives pets plenty of room to move around inside while remaining secure and protected.
Overall, the different types of Sturdibags available in the market provide pet owners with various options based on their specific needs and preferences. Whether you're looking for a lightweight carrier for short trips or a heavy-duty option for long-term travel, there's sure to be a Sturdibag that meets your requirements.
Choosing the Right Size of Sturdibag Pet Carrier
Factors to Consider When Selecting the Appropriate Size for Your Pet
Choosing the right size of Sturdibag is essential to ensure your pet's comfort and safety during travel. The first factor to consider is your pet's weight and height, as this will determine which size of Sturdibag to choose. You should also consider your pet's breed and body type, as some breeds may require a larger or smaller carrier.
Measuring your pet accurately is essential to ensure that the bag fits appropriately without being too tight or loose. Another factor to consider is the intended use of the carrier.
If you plan on using it for air travel, you'll need to check with your airline about their specific carrier size and dimensions requirements. Some airlines may only allow specific sizes or types of carriers on board, so checking before purchasing a carrier is crucial.
Tips on How to Measure Your Pet for a Perfect Fit
To measure your pet accurately, start by measuring their length from nose tip to tail base while standing up straight. Then measure their height from the floor up to their shoulders when standing up straight. Add these two measurements together and add an extra inch or two for comfort.
For example, if your pet measures 15 inches in length and 10 inches in height, you should look for a carrier with a length measurement of at least 16-17 inches and a height measurement of at least 11-12 inches. It's also important to take note of any additional factors that may affect your choice of carrier size.
For instance, if your pet is particularly active or restless while in transit, you might want to choose a slightly larger bag so they can move around comfortably without feeling cramped or restricted.
In contrast, if you have a more relaxed or laid back pet, a smaller carrier might work just fine.
Safety Features of Sturdibags
Protecting Your Pet During Travel
When it comes to traveling with your pet, safety is a top priority. Fortunately, Sturdibags are designed with safety features that ensure your pet stays safe and comfortable throughout the journey.
The sturdy construction of Sturdibags means they are strong enough to withstand any bumps or jostling that may occur while you're on the move. Additionally, these bags feature high-quality zippers and locking mechanisms, so you can be sure that your pet won't accidentally escape mid-flight.
Seatbelt Straps and Ventilation Holes
Another key safety feature of Sturdibags is the inclusion of seatbelt straps. These allow you to securely fasten the bag into place during car trips, which helps prevent any sudden movements that could injure your pet or cause them to become stressed.
Additionally, the bag's ventilation holes allow plenty of fresh air flow, ensuring that your pet stays relaxed and comfortable even during long journeys.
Overall, if you're looking for a reliable and safe way to transport your furry friend around town or across the country, then a Sturdibag is worth considering.
With its sturdy design and thoughtful safety features like seatbelt straps and ventilation holes, this brand truly goes above and beyond when protecting your beloved pets during travel.
Comfort and Convenience for Pets and Owners
How pets can feel comfortable inside a Sturdibag during travel
When it comes to traveling with pets, comfort is a top priority. Luckily, Sturdibags are designed to provide just that.
The bag's spacious interior allows pets to move around freely, while the soft padding ensures they can relax comfortably during long journeys.
The design of the Sturdibag also provides ample ventilation so your furry friend won't overheat or feel stuffy inside. The adjustable shoulder strap ensures pet owners are comfortable carrying their pets in the bag.
Additionally, some Sturdibags come with padded handles for extra convenience when carrying the bag by hand. With this level of comfort and convenience, pet owners can focus on enjoying their trip rather than worrying about their pet's comfort.
Convenient features like pockets, shoulder straps, and handles
Sturdibags are designed with several convenient features to make traveling with pets hassle-free.
One such feature is pockets – perfect for storing items like water bottles, treats or collars so you don't have to carry another bag when you're out and about.
Shoulder straps make it easy to carry your pet hands-free while walking or boarding a plane without worrying about dropping them accidentally. Plus, some bags have additional seatbelt straps that allow you to secure the bag safely in your car.
Handles provide an alternative way of carrying the bag by hand whenever you need to lift it into overhead storage compartments on board trains or planes as well as putting it down onto floors without dragging it along relentlessly which might be stressful for your animal companion.
All these features combined make Sturdibags an excellent investment for any pet owner who wants a high-quality carrier that prioritizes both their own comfort and their pet's well-being during travel.
Maintenance and Cleaning Tips for Sturdibags
Avoiding Messes: How to Keep Your Sturdibag Clean
If you're a pet owner, you know that messes can happen anytime. That's why keeping your Sturdibag clean and in good shape is essential. The first step in keeping your pet carrier clean is to prevent messes from happening in the first place.
If your pet is prone to accidents, consider adding a disposable puppy pad or absorbent liner inside the carrier before traveling.
Additionally, avoid feeding your pet inside the carrier if possible.
This will help prevent spills and crumbs from getting stuck on the fabric. If you must feed your pet during travel, use a spill-proof bowl and wipe up any spills immediately.
Cleaning Your Sturdibag: A Step-by-Step Guide
Even with preventative measures, messes can still happen inside your Sturdibag. When they do, cleaning them up promptly is essential to avoid stains and odor buildup.
Here's a step-by-step guide for cleaning your Sturdibag:
Remove all items from inside the carrier.

Shake out any loose debris or fur.
Use a lint roller or tape to remove any remaining hair or fur.
Spot-treat any stains with an enzymatic cleaner designed for pet messes.
Mix a solution of warm water and mild detergent.
Use a soft-bristled brush or sponge to scrub the interior of the bag.
Rinse thoroughly with warm water, ensuring that all soap residue is removed.
Hang the carrier up to air dry completely before reusing. By following these simple maintenance tips regularly, you can ensure that your Sturdibag remains clean, fresh-smelling, and safe for your and your pet's use.
Frequently Asked Questions about the Sturdibag Pet Carrier
What is the maximum weight limit for a Sturdibag?
Sturdibags come in different sizes, and each size has its weight limit. The weight limit depends on the size of the bag, with larger bags accommodating more weight than smaller ones.
For instance, the Large Flexible Height SturdiBag  Pet Carrier can hold up to 40 pounds, while the SturdiBag Small Pet Carrier has a weight capacity of up to 12 pounds.
It's essential to check your pet's weight before purchasing a Sturdibag to ensure you get the right size and avoid overloading that could damage the carrier or put your pet at risk.
Can I use a Sturdibag pet carrier as an airline-approved pet carrier?
Yes! All Sturdibag pet carrier options meet airline standards for pet carriers. However, it's advisable to contact your airline ahead of your trip for specific requirements and regulations on traveling with pets.
Additionally, it's crucial to note that some airlines may have restrictions on certain breeds or sizes of pets they allow in-cabin. Therefore it's essential always to check ahead before the day of travel.
Conclusion
After exploring the various aspects of the Sturdibag pet carrier, it is clear that they are an excellent investment for pet owners. The sturdy construction and safety features make it a reliable option for travel, ensuring that your pet stays safe and secure.
The comfort and convenience features ensure that pets can travel in style while their owners have an easy time carrying them around.
When choosing a Sturdibag, it is important to consider the size of your pet to ensure a perfect fit. The different types available in the market give you a wide range of options specific to your pet's needs, with some even designed for use as car seats.
Maintenance and cleaning tips are simple to follow, making it easy to keep your Sturdibag looking new after every trip. The pockets and extra features provide additional storage space for pet accessories like food bowls or leashes.
Investing in a Sturdibag is an excellent choice for pet owners who want to travel with their furry friends in comfort and style. With its durable construction, convenient features, and safety measures, you can rest assured that your pet will be comfortable and secure during any mode of transportation.
So why wait? Get yourself a Sturdibag today!