We consistently get asked for recommendations on tough dogs toys. So we scoured and tested many toys in the market to find you our Top 3 Tough Dog Toys!

Who were our testers? Well, Dogsized is a member of Downtown Dogs NYC and some members claimed their dogs could destroy ANY toy. So we gave them some toys to test and these three came out on top (no particular ranking order – these three were all equally great).
"Sir James" was given the Aussie Naturals IndestructaBALL and was proven to be indestructible.
James was really excited about the ball and put in a remarkable effort at sending it to the James Destruction Graveyard, which includes:
every toy he's ever owned
every sock he's ever found
many, many shoes (mostly the expensive ones)
several duvets and pillows (and the bedding that encased them)
glasses
remotes
iPhone chargers
etc…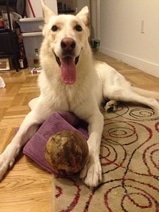 The Border Collie in him powered through the challenge and stubbornly found a way to clamp his jaws of steel around it (the 4″ ball was slightly big for his mouth).
He loves the shaking noise that it makes. Ultimately the Bassett Hound in him took over once he realized that the toy has beaten him, and he collapses and gives it that Bassett stink-eye as it roles away from him.
The IndestructaBALL is 100% natural, eco friendly and made from mango wood. It contains natural wood pellets and makes noise when it moves.
We also gave Emma the 5.5″ Aussie Naturals IndestructaBALL. She's been able to rough it up, but it's held up well.
Emma's parent's biggest concern was possible splinters, but the mango wood was soft enough to not create sharp splinters. As you can see, Emma loves the ball!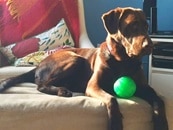 Another winner was the Starmark Treat Dispensing Chew Ball. We gave this to Abe to test. We were forewarned that no toy could hold up to his jaws of steel, but this toy survived the test!
To quote Abe's mom's last update: "Abe LOVES that ball and it is still in tact! A miracle!" The Treat Dispensing Chew Ball can be filled with a variety of treats and kibble to keep your dog mentally stimulated and happily occupied.
The material is stronger and lighter than natural rubber and is free of latex, vinyl & phthalates.
The third winner is a stuffed animal – Invincibles. All of the parents with "jaws of steel" dogs thought there was no way a stuff animal could survive some tough dog love, but the Invincibles proved them wrong!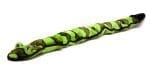 We gave Bailey, a 55lb Boxer, the Invincibles snake dog toy. After a week of playing hard core with her new squeaky friend, Bailey finally was able to remove the two eyes and only one of the squeakers.
Bailey's parents told us it was the most durable "made for dogs" toy she's ever had and the longest a toy like this has remained in one piece. With other stuffed dog toys, Bailey is able to take out the stuffing and eyes within the first 15 minutes of playing.
Bailey's parents gave the Invincible a thumbs up: "I would say this is a durable toy and will provide hours of fun and noise for your dog."