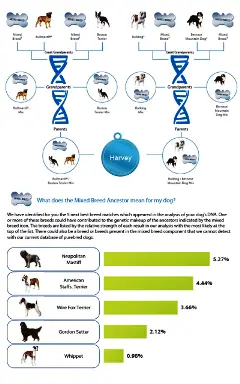 If you are one of those heroes that went to the pound or animal shelter to adopt your dog, you might be wondering – what breeds is my dog made out of? Maybe you're just curious or perhaps you want to identify any potential health issues or disease predispositions based on their breed mix?
What we were surprised to learn is that your dog's physical appearance is largely controlled by a small number of genes. These genes can have both recessive and dominant variants and the variants that are present determine the visible effect on physical traits seen.
As a result the presence of various breed signatures does not guarantee that the dog will look like all detected breeds. The wonder of genetic inheritance can be seen as much in dogs as it can in people. So what you see perhaps is not what you actually have…
Since you can't totally guess your dogs breed ancestry based on looks, we researched some great DNA testing options for you.
We've linked them below for your easy shopping convenience.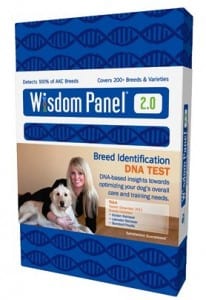 Wisdom Panel by Mars Veterinary
The Wisdom Panel is an easy 1-2-3 kit:
1. Collect a DNA sample from the inside of your dog's cheek with the included swabs.
2. Using the provided "Test Sample ID", activate your kit online and mail the swabs back to their laboratory in the postage-paid envelope.
3. Within about 3 weeks, you'll receive an e-mailed full ancestry report with your dog's results.
Wisdom Panel is one of the most thorough test as it tests for over 200 different breeds and varieties, as well as, 321 genetic markers. During the Wisdom Panel test development, they completed over 19 million genetic marker analyses and typed over 13,000 dogs during test development.
Here's a great video from Wisdom Panel which explains the process:

Other Dog DNA Testing Options
From what we've seen, it looks like Wisdom Panel would be the best quality test. However, there are other testing options you might want to consider below or also contact your vet who should also have Dog DNA test options: