Are you thinking about adopting a new canine companion, but either you or someone in your home happens to be unfortunately allergic to dogs? If you are, by chance, looking for hypoallergenic dogs and more inclined to adopting a cute small-sized pooch instead of a large breed then keep reading!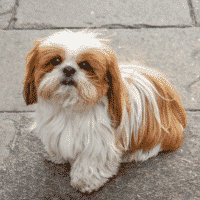 If you can relate to either one or both of these problems, then you need small hypoallergenic dogs.
What is a hypoallergenic dog?
If we were to put it in simple terms, typically hypoallergenic dogs are dogs that don't shed. But to be specific, hypoallergenic dog breeds have a non-shedding coat that produces less dander. Or dogs that don't have hair and, therefore, are less likely to have dander clinging to them.
You see, pet dander is, more often than not, the leading cause of allergic reactions of pet lovers. These small bits of skin that cling to your pet's fur contain proteins. These proteins cause excessive sneezing, runny nose, and irritated eyes to some people.
For this reason, many end up choosing these types of pooches, as they can help you feel the joy of being a pet parent without the added risk of a health condition.
So we picked our top favorite hypoallergenic small breed dogs that we think you should bring home today.
What's your dog type? Learn More About Your Dog:
Best Dog DNA Test Kits
All products are linked for easy purchase.
---
---
---
---
Small Hypoallergenic Dogs List
Top 3 Hypoallergenic Dogs For Small Breed Lovers
Hypoallergenic Dog Round Up
If you or someone in your home is allergic to dogs but still wants to adopt a furry friend, hypoallergenic dogs are a great option. Hypoallergenic dog breeds are known for having non-shedding coats that produce less dander, which can cause allergic reactions in humans.
Small hypoallergenic dogs are particularly desirable for those living in apartments or looking for a cuddly companion. This article provides a list of the best small hypoallergenic dog breeds, making it easier to find the perfect pet without the added health risks.
ALSO READ