Our friend Andrea is a new mom to her beautiful daughter Avery. She's also already the mom of Cooper, a very spirited and entertaining Yorkiepoo. We were wondering – how does she do it?
Dogsized recently interviewed Andrea to give us the scoop:
Hi Andrea!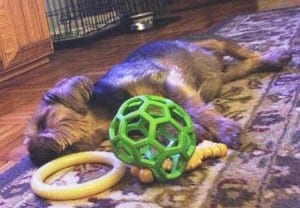 Tell us about how Cooper, your first (canine) baby, came into your family?
Cooper joined the team after multiple hints for something that "barks under the tree". My husband and I went to a few places to find the right dog. The first two places did not pass my permissions, but finally at the third place, near his parents house, we found our little bundle of fun. Cooper was about 5lbs at the time and completely different from all the other dogs we had seen. He was all black with a cinnamon color around his nose and ears. He slid across the floor and I immediately said, "well, we'll have to call him Swiffer".
That afternoon, Doug went to a football draft and sitting outside with his sister and cousin, I said, "I'm getting that dog! But the name has to be fitting, so we'll call him Cooper, for Peter Cooper, where I grew up."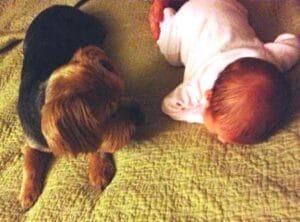 Did Cooper do anything different / special while you were pregnant?
Well, he ended up learning a couple new skills. Since I couldn't easily pick him up at his now 18lbs. He also enjoyed running around the table as a game. So to make life more manageable, I taught him to do two things:
"Go Kitchen" – Cooper would then go to the kitchen and I was able to catch him because there was no place for him to run around.
"1-2" – I would put his harness down and say "1-2". Cooper knew to put his first paw up and in and then the second paw in the harness. Then I was able to clip it together, attach the leash and we were off.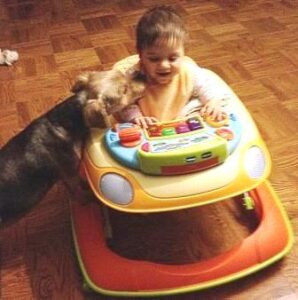 How did Cooper react when Avery came home?
Since Avery was born early, we ended up sending Cooper to the in-laws first, so Cooper actually returned home after Avery. While Avery was in the hospital, we made sure to send Cooper some of Avery's tops or socks so that he knew her smell.
We weren't worried at all when Cooper came back home, he loved Avery from the beginning and kisses her all the time. The only concern was Cooper's nails. He is a little commando and his requests or generous gifts of love sometimes can be a bit harsh on her skin or anyone's (or clothes too). After all, his terrier side is very willful and strong – not aggressive – just bold. As such, we need to make sure his nails are buffered and try to make sure he doesn't scratch Avery.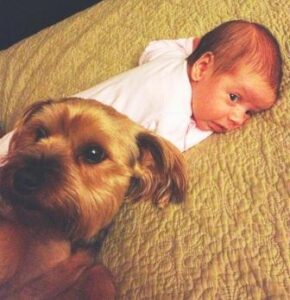 Was Cooper ever jealous of Avery?
Yes and still is. That is a parenting thing that both my husband and I need to pay attention to. Cooper butts himself in to the middle of anything. He's figured out that where Avery is means – attention – so get it while its hot!
How do you manage being a mom to both Cooper and Avery?
What about baby number 3 – my husband? You have no choice, you just do it. If you are blessed, there are friends and family around to make you laugh each day. Otherwise, there's always "Go Kitchen", "1-2", and let's go!