Did you know that dogs are just as much at risk of experiencing dry, chapped, and irritated skin as humans are? This is because, although dog paws are tough, they sometimes require occasional relief from paw balms.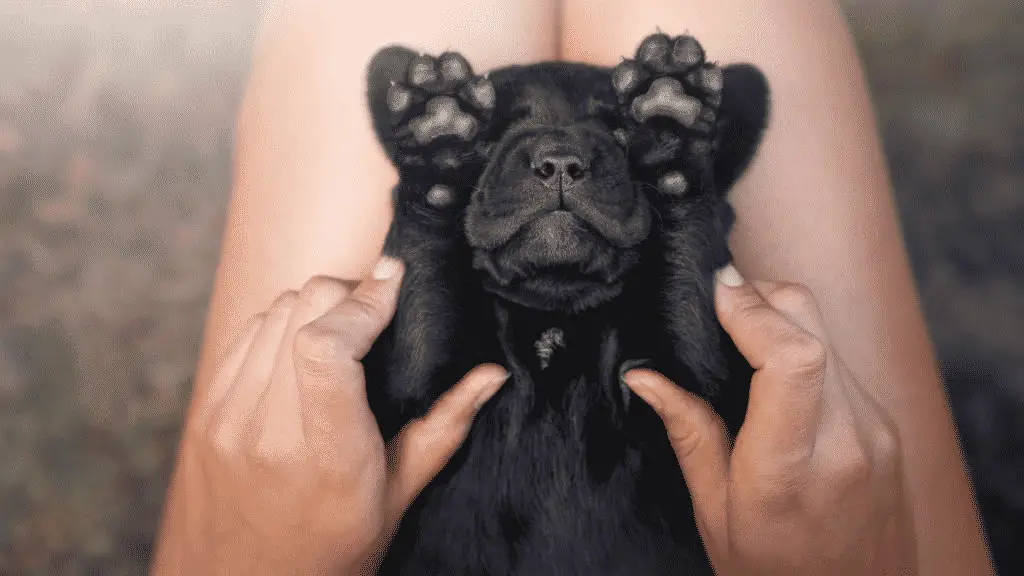 Most especially when walking out in the extreme heat or cold, where there is a risk of sunburns or frostbite.
And while dog boots provide a practical and adorable solution, not all dogs are open to putting them on, which can be frustrating. Luckily, you can put some invisible booties on your pup by using dog paw balm instead.
What Is Dog Paw Balm?
Dog paw balm is used as a form of ointment applied to your pooch's paws to help soothe any cracked or damaged paws. It is also a preventative measure against injury.
The balm acts as a protective buffer between their feet and the ground.
This means that even if they were to step on hot pavements, asphalt, or sand, their paws should remain reasonably protected. It also protects cold surfaces or even toxic chemicals that may be on the ground.
The only tricky part about these products is that there are so many options to chose from.
So, pinpointing the best ones can prove tiresome, but lucky for you, we've got you covered with our top three picks!
#1. Musher's Secret Paw Protection Wax
The Musher's Secret Paw Protection Wax is possibly the most highly-rated and popular choice for most dog breeds today. It stood out to me because it had the most positive reviews on Amazon.
It was made in Canada for use on sledding dogs in cold weather conditions.
But what stood out to me the most was that it is formulated with 100% natural food-grade oils and waxes (like beeswax, carnauba wax, and vegetable oils).
This ensures that even if your pooch decided to nibble at their paws, they would not end up ingesting some potentially toxic.
It also contains a lot of vitamin E that helps heal and moisturize your pet's damaged and cracked skin.
You only need to scoop a small amount into your hand and spread it on a light layer over their little paws. It can be used periodically as a long-term preventative measure, as there are a good amount of size options to consider.
This way, you can purchase a larger quantity like the 1lb and keep your pooch's paws safe from hot surfaces, frozen surfaces, and irritants like chemical toxins.
#2. Pawstruck Ruff Relief
While Musher is the pet parent's favorite, Pawstruck is the dog favorite. This is because most canines do not like balms, primarily due to the specific odor and taste. Naturally, Pawstruck opted to make their balm both hypoallergenic, tasteless, and odorless.
The fact that even after applying it around my dog's nose, he remained rather unbothered by it made for clear proof of its subtlety. It is also the only dog paw balm that is USDA certified. It's also surprisingly sold at quite an affordable price point too!
Much like Musher's paw balm, this one also contains natural ingredients such as beeswax, olive oil, and coconut oil.
Plus, it also has a significant amount of vitamin E, which is always useful in healing damaged skin!
It took some time for the balm to be fully absorbed, which meant I had to find a way to distract my pooch from licking it, at least long enough for it to be fully soaked in.
Luckily, it is made using organic ingredients, so even if your dog does lick it, you can rest assured it won't be harmful to their health.
#3. Pet Head Oatmeal Natural Paw Butter
This is another all-natural pick. It uses an oatmeal-based formulation to soothe and moisturize any dry or cracked paws. It also uses natural ingredients like shea butter, mango, and coconut.
This means even if your pooch licks it, it will not have any allergic reactions. Aside from oatmeal, it has skin-enriching ingredients like aloe vera and vitamins E and F too!
It has a sweet and strong-smelling fragrance, too, so take care to make sure your pooch won't be bothered by it. Other than that, it has a somewhat chapstick feel to it that allows you to apply it anytime.
Just be careful to give it some time to dry first, as it has a greasiness that could make a mess of your floor.
Conclusion
Just like human hands, dog paws require care and attention to keep them healthy and comfortable. With the help of a high-quality paw balm, you can protect your dog's paws from harsh weather, rough terrain, and other environmental factors.
Whether your dog has dry, cracked, or irritated paws, there is a paw balm out there to meet their needs.
From all-natural to organic and hypoallergenic formulas, you can find a paw balm that works for your dog's specific needs.
By incorporating a paw balm into your dog's grooming routine, you can help to prevent paw injuries and discomfort, and ensure that their paws stay soft and healthy for years to come.
VIEW OUR SUMMER GUIDES
ALSO READ: