Having the correct tools always makes any job easier, doesn't it? This also applies to keeping your pooch well-groomed. If you bring your dog to professional groomers, getting dog grooming tools might not be on top of your shopping list.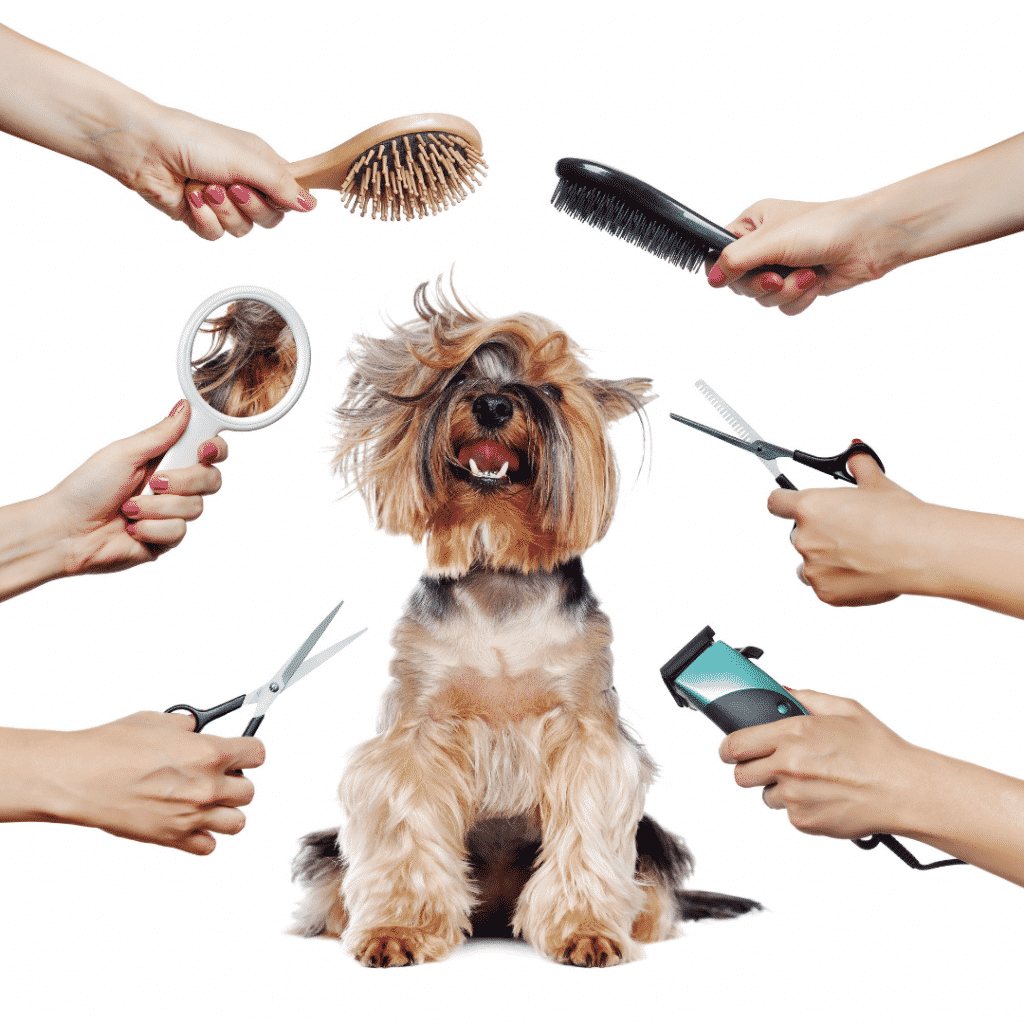 But if you're like other fur parents who want to save money on grooming and thinking about doing it yourself, you definitely should get the right dog grooming tools. This ensures that you get the job done safely.
With so many different types of dog grooming tools, choosing the right tool can be hard.
With that in mind, we decided to quickly break down the basic grooming tools that you need at home to give your dog the expert home-care treatment that they deserve.
Every dog lover needs to ensure that they have a good brush to keep their pup's hair looking well-maintained and groomed.
When searching for dog brushes, make sure to consider your dog's coat and what you want to achieve from the grooming session.
Remember that some dogs would need a deshedding brush while others will require something to detangle unruly knots, like slicker brushes.
Slicker brushes are designed with bent, metal teeth, which allow you to easily reach past the top layer of the coat, down to the undercoat and remove any excess dead hair build-up.
It is also useful against mats and tangles, that's why many professional groomers use this kind of brush.
DOGSIZED Recommended Dog Brushes
Click the photos to check them out.
There are a few special dog breeds such as the Maltese or Poodle that don't shed hair.
And the good thing about this is that you don't have to work about hair messes in your home, the downside is that your pooch will need regular hair trimming.
In most cases, it can be a rather expensive thing to keep taking them to the groomers and you also can't let the hair grow out either.
As such, you can purchase a dog clipper set, which often includes hair trimming shears.
You can also opt to use electric clippers for faster trimming. However, using shears or grooming scissors is a much better way to be precise with the job.
DOGSIZED Recommended
Dog Hair Trimmers
Click the photos to check them out.
Much like humans need to trim their nails, the process is no different for dogs.
Long nails can be a detriment, as they can not only scratch or hurt you or others around your pup but if they end up breaking off, it can be a painful experience for your little pup.
And while most people prefer to leave nail trimming to professionals, if you have the right clippers, you can easily master nail clipping at home.
Purchase a good pair that will not only cut the nails cleanly, but also not make the process not too difficult or painful for them either.
DOGSIZED Recommended
Nail Clippers for Dogs
Click the photos to check them out.
Giving your pooch a regular bath is just as essential as giving yourself one and to accomplish this, you will need a good shampoo to clean and moisturize their coats.
Luckily, there is a wide variety of options to choose from. We recommend to use the ones that are 100% organic and contain natural ingredients because these are much safer for dogs and less likely to cause allergic reactions.
Once you are done washing them, you should also apply a mild conditioner to replace the natural oils that the shampoo washed off your dog's skin.
Most of them are formulated to not only encourage healthy hair growth but also reduce tangled hair.
DOGSIZED Recommended Organic Shampoo & Conditioner for Dogs
Click the photos to check them out.
After you are done cleaning and grooming them, you need to make sure that you dry them off properly.
This is an essential step to keep your beloved pal from catching colds and to keep bacteria from gathering in the damp areas of their fur.
Keep in mind that there is a difference between a typical hair dryer and a pet-specific one.
You can always opt to use the one you've got at home, but if you want to give your pooch the professional treatment, then you should get yourself a High Velocity Dryer (HV Dryer).
They are way more powerful than any average hair dryer, which allows them to remove any loose fur, and expose any tangles, mats, and fur balls that may still be stuck.
DOGSIZED Recommended Dog Towels & Top HV Dryer
Click the photos to check them out.
ALSO READ: