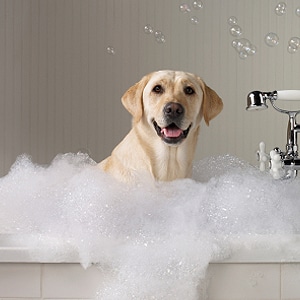 We're big fans of Earthbath products! We first discovered Earthbath when we were looking for a hypo-allergenic shampoo for our dog, Kobi, who has a lot of allergies. He's even allergic to several trees and grass varieties so we needed to avoid tea tree ingredients as it appeared that post-shampooing with a tea tree based product also made him itchy. Tea tree is a helpful ingredient for other dogs and people (I use it myself), it just doesn't work for our dog.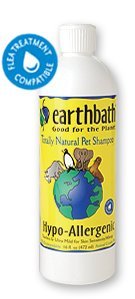 What turned us on to Earthbath products is that they are totally natural, non-toxic, paraben free, phthalate free, and phosphate free. Their products are also soap-free and pH balanced to be ultra-mild on your pet's skin. In addition, Earthbath products are cruelty free and contain no animal ingredients or by products. They're also made in the USA with human-grade ingredients and pure essential oils.
Here's an offer from Earthbath regarding their products that we've rarely seen from other companies: "If you are not completely satisfied for any reason, simply send the unused portion along with purchase receipt and a quick note telling us why, and we'll send you your money back." That's a pretty strong sign they really back their products.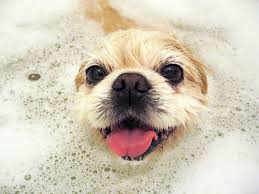 We started using their Hypo-Allergenic shampoo and it's been great! There are a few bonus qualities to this product. It's tearless, ultra mild, green clean, 100% biodegradable and it will not wash off topical flea applications(e.g. Frontline, Advantix). And most importantly, it gets our white dog really clean with no itchy side effects. We also use Earthbath Hypo-Allergenic Grooming Wipes after walks with Kobi on the streets of NYC.

Recently Earthbath came out with a line of new products including eye wipes, ear wipes, facial wipes and tooth & gum wipes. We're testing the
Earthbath Eye Wipes
and so far we're quite pleased. Kobi has a white coat and can get tear stains. The eye wipes are hypo-allergenic and fragrance-free for safety. We also love the smooth stylish compact container the eye wipes come in.
Earthbath also sent us 4 other products that we gave away to 4 different Dogsized Fans. Here they are:
Earthbath Facial Wipes – Hypoallergenic
Totally natural & hypo-allergenic Earthbath facial wipes offer a quick, convenient & safe way to clean away dirt, boogies, dander and drool from your dog's face. Use on the go or at the tail end of a bath. No more shampoo in the eyes, no more water in the snout, because there's no need to rinse after washing with these gentle, pH-balanced wipes designed specifically for use on and around the face, eyes & mouth. Formulated for use on all breeds and effective on breeds with folds such as Bull Dogs, Pugs, & Shar-Peis.
Earthbath Ear Wipes
Earthbath Ear Wipes are a fast, convenient way to keep your dog's ears free of wax and discharge which can cause infections and odor. Earthbath wipes contain witch hazel, a natural cleanser and astringent, plus a sumptuous mix of nature's finest plant extracts with gentle therapeutic and deodorizing properties. Naturally fragrance-free. It also comes in a smooth stylish compact container.
Earthbath Tooth & Gum Wipes
Earthbath Tooth and Gum Wipes are the easy and convenient solution to keeping your pet's mouth clean from plaque, tartar and odor-causing bacteria. Their totally natural formula is free of parabens, alcohol, and other nasties that don't belong in your pet's mouth. Use daily for best results. It also comes in a smooth stylish compact container.
Earthbath Grooming Travel Wipes
Just toss in your car or purse and go! Use Earthbath Travel Wipes with Green Tea Leaf Extract to safely and easily wipe away dirt and odor between baths. Handily clean pets' dirty paws and undercoat. Dirty bottoms too! Remove dander, drool, discharge and cling- ons from playing in the unknown. Mild cleansers freshen and deodorize as the anti-oxidant properties of Green Tea Leaf Extract protect from environmental damage. Hawaiian Awapuhi conditions coat and imparts a healthy shine while Aloe Vera and Vitamin E moisturize coat and skin.