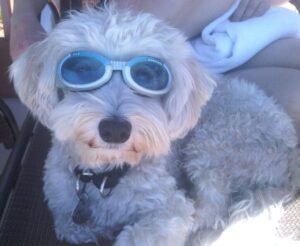 While dog sunglasses might sound a bit over the top, they actually protect your dog's eyes from UV rays, wind, debris, and the elements. Whether your dog accompanies you on a motorcycle ride, hangs their head out of the car, loves to sunbathe, or is sensitive to light, dog sunglasses can help keep their eyes safe.
I got Kobi, our dog, some dog sunglasses from Doggles a while back. We were vacationing in St. George, Utah near the Red Cliffs and the sun was strong out there, especially at the pool. You wouldn't believe how many people came over and just coo-ed about how cute Kobi looked in his Doggles.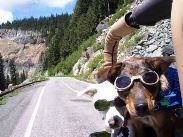 We"ll use his Doggles when we're somewhere like the pool or beach and it's really bright out. We've seen other dogs out wearing them when riding in a motorcycle side car, jeep, convertibles or just sticking their head out the car window.
Doggles come in different colors and sizes to fit your dogs body and style. Doggles offer 100% UV protection, shatter-proof lenses, and anti-fog treatment on the inside of the lenses. Doggles ILS (Interchangeable Lens System) styles have interchangeable and replaceable lenses.
Check out these dog sunglasses by Doggles, all linked for easy shopping: