G

lobal Pet Expo
is the pet industry's largest annual trade show featuring the newest, most innovative pet products on the market today. It is presented by
American Pet Products Association
 (APPA) and the 
Pet Industry Distributors Association
(PIDA).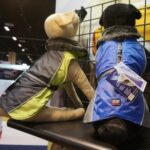 Due to the safety concerns brought about by the pandemic, APPA's COO, Andy Darmohraj, announced that the Global Pet Expo moved to a fully-digital experience in place of its live trade show for 2021.
Global Pet Expo Digital Access
in 2021 is a full digital event, some aspects of the show will be different this year. Unfortunately, there will be no Industry Visitor option for Global Pet Expo Digital Access. For now, it is open to independent retailers, distributors, mass-market buyers, and companies that purchase
pet products
wholesale. Check out some of the coolest products we found when we visited the
Global Pet Expo
previous years that made us super excited to join the next live event!
Continue reading to find the photos we took from day one of the Global Pet Expo 2015.
Day One – Global Pet Expo 2015 Photos
We survived day one of the Global Pet Expo! There are at least 1,000 vendors just for dogs at the Global Pet Expo, so we're feverishly running around searching for some of the top items for our Dogsized fans. Clearly, we haven't seen all the vendors yet, but here are some of our favorites so far. We'll make sure to follow up with more info, etc. New
treat dispensers
from West Paw
See Photos from Day Two & Three – Global Pet Expo 2015