When it comes to pet grooming, the tools you use are just as important as the technique. Whether you're a professional groomer or a pet owner, Wahl pet grooming products include everything you need to keep your pup looking and feeling great.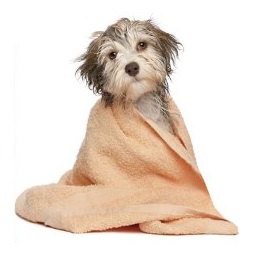 Wahl is largely known for their top quality hair trimmers and clippers. They also have a line of Wahl Pet Grooming products, which includes shampoos, wipes and other odor control products.
This line was developed due to the concern about harsh detergents and chemicals used in pet grooming products.
Wahl launched their all-natural wet goods line to provide a safe and natural option for dogs. Everything in the Wahl Pet Grooming line is made from plant derived ingredients deemed safe for pets and owners.
We recently tested the Refresh Cleaning Wips and No-Rinse Waterless Shampoo.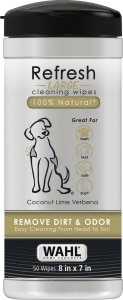 The Wahl Refresh 100% Natural Cleaning Wipes came in a Coconut Lime Verbena sent. It smells very clean and we like it.
Since our dog is male, we prefer this over some wipes with an overly floral scent. We found these wipes to be different from other wipes as they have more of a cleansing component.
Most wipes we have tried are just wet, but the Wahl Refresh 100% Natural Cleaning Wipes have a more soapy wet feel.
Since we live in NYC and our dog's paws get dirty during a walk, we find these wipes to do a better cleaning job. They also came in an easy to grab and use the container.

We love Wahl's 100% Natural No-Rinse Waterless Shampoo (Coconut Lime Verbena sent). During the slushy and rainy weather our dog's paws can get very dirty.
He's a blond Havanese and would come back with black paws which required us to wash his feet off in the sink. This No-Rinse Waterless Shampoo has a mousse consistency.
We take a dry towel and spray the mousse on the towel or on his paws and rub them down with the towel.
This 100% Natural No-Rinse Waterless Shampoo does a great job at cleaning dirty paws and saves us from having to give our dog's paws a bath after every walk in the winter.
Our dog has a lot of allergies, and we're happy to report that he didn't have any allergic reactions to these two products.
ALSO READ