We just think the Pug is so darn cute! We can't resist the Pug's wrinkly, short-muzzled face and curled tail. Originally bred to be a lap dog, the Pug thrives on human companionship and is known to be charming, loving and mischievous.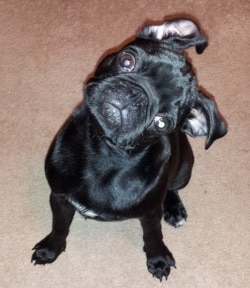 To get the inside scoop on the Pug, we asked one of our Dogsized fans, Kim, to tell us about her very cute 2 pugs:
How did Jaxon and Olivia the pug come to join your family?
A while back, I reconnected with an old high school friend, Kevin, who is now my best friend. Kevin had a pug named Harley – he was the most amazing pug ever! I fell in love with the breed because of Harley. Sadly, we lost Harley in 2014 on New Years day.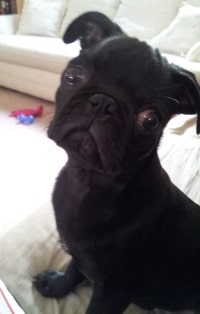 My friend Kevin finally decided he wanted to get another pug so I started to search for the perfect pug.
There was one breeder I ended up talking with for months. I got to know her and her pugs…and kept a tag on Jaxon, a sweet adorable black pug puppy.
We were all excited about Jaxon and everyone wanted input on his name, so officially he is Oliver Cole Biscuit Jaxon. He is sweet, loving, silly and aka Jaxon the Pug TOY DESTROYER.
At the time, I had been contemplating getting my own pug, but I just was not sure. I honestly did not think I would have a dog again, let alone a puppy.
After picking up Jaxon and meeting the breeder, I found out she had a fawn pug that was going to have puppies soon. After seeing the photos, I was in love! I got the little runt fawn girl Olivia Annabelle. Olivia is spunky, sassy and a total Diva aka Olivia the PUG QUEEN.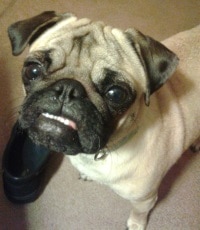 Jaxon and Olivia are the best of friends just like their parents are the best of friends. We are just two peas in a pod (or would that be 2 pods and 4 peas?). They are always together encouraging each other into mischief.
Do they have a favorite treat?
There favorite treat is doggie ice cream and anything chicken. Yes they will do anything for a treat.
Jaxon is the treat thief as if a bag is left out it will be gone or if there is a treat in your pocket he is an adept pickpocket… you've been forewarned.
What are some things that Jaxon & Olivia love to do?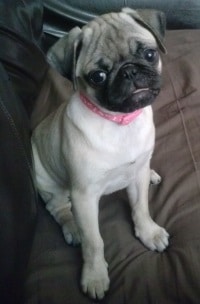 Jaxon thinks all toys should be destroyed and works hard to destroy them. It has taken a lot of research to find toys that last more than a day with him.
Olivia is the Queen and thinks she rules the roost, including Jaxon.
She has been known to let him know she wants a drink by closing the kennel door on him (they have a huge water bottle that hangs on the communal kennel in the living room for water, as they think water bowls are fun to play in not drink from) to get him to move and let her have a drink.
Jaxon thinks it is fun to torment her by stealing toys or chews she thinks she has hidden. We buy two of most everything to keep them from fighting, but Jaxon thinks its funny to get her chew and lay on it while he chews his.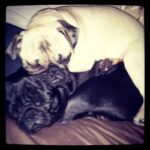 They are always up for a game of Pug Wrestling. When it is time for a nap. Olivia's favorite place is literally on top of Jaxon. They can always be found cuddling each other and great each other in the morning with kisses.
They both love to give kisses and get belly rubs. Even though sometimes they can drive you crazy, I could not imagine life without them!
In fact, Kim started a blog for them: Pug Squared.
We were surprised to learn that the Pug is one of the oldest breeds of dog – it has flourished since before 400 BC. In 1885, the Pug was officially recognized by the AKC and is part of the AKC toy group.
The Pug has a fine, glossy fur coat that most often comes in fawn or black. It has a compact square body with well-developed muscles.
Of course, the Pug is loved by celebrities, but our favorite has to be Frank the Pug from the Men in Black movies.
Here's Jessica Alba with her Pugs named Sid and Nancy. Gerard Butler is often out on the town with his Pug named Lolita.
Products for the Pug in your life:
Pug's Guide to Etiquette
Royal Canin Pug Dry Dog Food
Royal Canin Royal Canin Pug Puppy Dry Dog Food
The Blissful Dog Fawn Pug Nose Butter
Pugs For Dummies
Want to learn more about Pugs?
Check out: https://www.pugdogclubofamerica.com/