For dog owners who are tired of constantly throwing a ball for their pup, finding the best automatic dog ball launcher is a game-changer that can provide hours of entertainment for both you and your furry friend.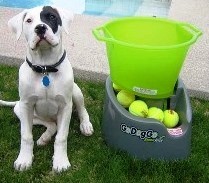 A while back we wrote about the iFetch automatic ball launcher and fetch machine. Since then, we've discovered the GoDogGo.
This is also an automatic ball launcher and fetch machine, but the advantage is that the GoDogGo allows you to use balls of all sizes – small, medium and large. It will also launch farther than the iFetch, which goes up to 30 feet.
GoDogGo is recommended for outdoor use due to the speed, height and distance of the ball launch. Of course, it really depends on how large your house is – are you in a studio or a 15,000 sq ft home? Apparently a pressurized or hi-bounce ball will have a minimum launch height of approximately 12 feet, but the machine can be adjusted to launch between 12 and 42+ feet depending on the ball type and size.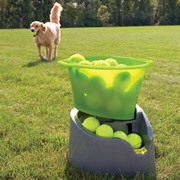 The GoDogGo company suggests that if you plan to use it indoors, it's preferable to use a heavy and/or hollow ball that is not pressurized as this will help to reduce the launch. Ball examples to reduce height/distance:
Buddy Glow Ball–14′ distance & 6′ height; ProPenn Tip 2 trainer ball-18′ distance & 8′ height; Chuck it standard size Tennis Ball–11′ distance & 4′ height; Planet Dog RecycleBall–9′ distance & 6′ height.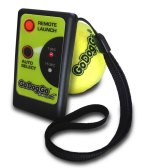 The GoDogGo Fetch Machine allows for 3 types of use; continuous automatic launching of balls every 7 or 15 seconds when the bucket is fully loaded, use with a single ball for independent play when the dog returns ball to the bucket; or the dog owner controls the experience by using a remote control.
In manual mode using the remote control, a ball will launch at a minimum of 7 seconds or a longer which is determined by pushing the remote launch button.
The GoDogGo can be powered by either AC Adapter/110V or Battery Power/D Batteries. If using battery power, it will run for approximately 25 hours on 6 D batteries.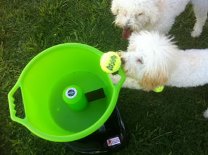 Clearly, this is an awesome toy if your dog is crazy about fetch (especially when your arm is tired). Of course, you'll have to train your dog with it as with any new toy and there are safety considerations, for example, your dog (and anyone else) should always stand a minimum of 2 feet from the front of the unit when the ball machine is turned on.
You need to make sure your dog also retrieves to the right place, i.e. the bucket and not the launch pocket. However, with the right training, we think this would be a great gift for your dog and it could provide endless hours of play!