The Toppl dog treat toy by West Paw is one of the best things we saw at the Global Pet Expo. West Paw gave us one to try out and it has been a complete hit with our dog Kobi.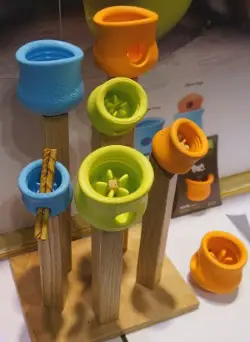 We can easily stuff a bully stick in it (see blue Toppl with bully stick in it to the right) and the Toppl dog treat toy makes it much easier for Kobi to hold.
How the Toppl Dog Treat Toy Works
The Toppl traps treats with its inner ridges. You can interlock two Toppl dog treat toys (via 2 different sizes), and it makes it more of a challenge for your dog to get at the treats inside.
The toy is also bounce-able, and while Kobi is not the best dog tester for durability, I think this product appears to be very durable, i.e., quite indestructible.
I'd give it to one of my tough dog toy testers, but we like it too much to give it away.  😉
All of West Paw's Zogoflex dog toys (Topple being one of the line) are recyclable, BPA-and-phthalate-free, FDA compliant (meaning it's safe to eat off of), and guaranteed to last. It's also safe to put in the dishwasher.
It comes in two sizes (small and large) and three colors (blue, green, and orange).