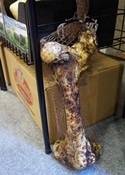 Does your dog chew bones or raw hides in seconds? Well we discovered the largest bones for dogs that we've ever seen! They're made by Tasman's Natural Pet Brands and we're positive it would take quite a while, possibly weeks or months for your dog to get through these.
Tasman's American Bison Meaty Bones are sourced and made in the USA from Free Range American Bison, raised without added hormones or antibiotics. They offer a variety of bison bone types: knuckle, achilles, saddle, femur, foreshank, center cut and paddle bison bones. They come in various sizes to satisfy the extra large to small dog.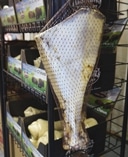 The background story on Tasman's Natural Pet Brands is quite interesting. It's a family owned company based in Louisville, Kentucky founded by Mr. Goodman Tasman in 1947. Their main line of business is actually raw cattle hides for the leather industry and leather production for worldwide brands and manufacturers of footwear, handbags, furniture, accessories and just about anything you can think of made from leather.
The Biggest Dogs In The World | Gia...
In 2006 they began to work with bison hides to be cured and processed for sale to the leather industry. In 2007, they came up with the idea of making the best rawhide chew treats for dogs. Not only do they sell bison bones, but they also have a full line of treats and rawhide chews, including rawhide chews made from elk.
What's the Process?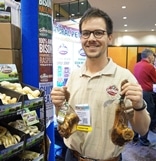 "We take possession of the raw bison hides immediately after harvesting at USDA or State Inspected facilities in the U.S., and maintain custody of the hides until they become the best rawhide chews available today. Unlike most rawhide chews, ours are made with only bison hides and we know EXACTLY where they came from and when they were harvested. Many other rawhide chew companies would be hard pressed to tell you exactly where the hides the come from to make their chews. Also, unlike most, if not all, rawhide chew companies that rely on the second layer of the skin, we often use the entire Bison Hide including the top (full grain) layer in our chews. We then work with a sheltered workshop here in the Louisville area to do our packaging and casing."
"At Tasman's Natural Pet Brands, we are committed to bringing you only the highest quality pet treats and leather products second to none in quality, reliability and beauty."
If you're interested in purchasing Tasman's products, you can get them at Amazon or Tasman's website (which also has a store finder).