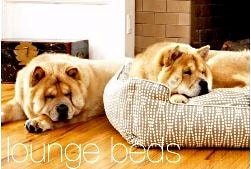 We discovered Jax and Bones beds at the Global Pet Expo and fell in love with their beds. First of all, they use the most beautiful, sophisticated stylish fabric. The beds are also very well constructed. All Jax and Bones bedding is made in the USA, filled using eco-friendly fiber and machine washable! Best of all, their beds are for all dog sizes from small to large dogs up to 110lbs. Their collections have a few major bed models (see below). If you can't find the item you want, then you can order it custom made by contacting Jax and Bones.
Lounge Beds: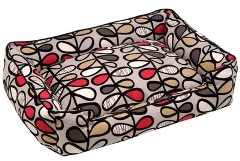 These beds were the total show stopper for us. The fabrics are amazing and suited for modern, stylish lifestyles. First you pick the type of fabric you're interested in, e.g Everyday Cotton, Crypton Super Fabrics, Flocked, Corduroy, Double Rub Microvelvet and Cotton Blends. Then you pick the color/design you like. There are so many beautiful combinations, but I think our favorite is the Cotton Blends in Pearl.
These beds have cozy surrounding bolsters which allow your pet to curl, snuggle, or lean against. Ideal for pets who needs extra reassurance and warmth. These beds have zippers and removable inserts for easy maintenance and care. Certified Eco-Friendly! It's available in 4 sizes (s,m,ml,l).
Note that the Jax and Bones exclusive Crypton Super Fabrics are stain, spill, and mildew resistant. They are durable for any type of situation and this fabric has a 5 year protection guarantee. It's great for dogs that might drool or have accidents as they are water resistant. The fabric is also machine washable.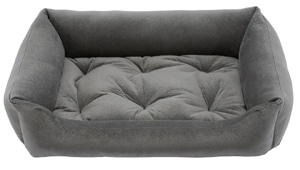 Everyday Nest Beds:
Built like a sofa with extra length for dogs who like to stretch. Made with heavy weight velour fabrics and filled with Sustainafill, Jax and Bones signature eco-friendly fiber. The bed has bolsters with zippers and removable inserts. The quilted center pad can be removed and used as a crate pad. It's 100% machine washable and offered in 4 sizes.
Napper bed:
This oval bolster bed is cozy and plush with overstuffed bolsters and filled with hypo-allergenic polyfil. It's perfect for dogs that like to lean, curl, or cuddle.
Fabric is made from a high performance micro-denier plush velvet with 2 removable inserts for easy care.
Offered in 4 sizes and various fabric types, e.g. velour, corduroy and cotton blends.
Pillow Beds:
All Pillow Beds are proudly made in the USA and come from high grade upholstery fabrics. They are allergen-free and are filled with Jax & Bones signature eco-friendly fiber, Sustainafil.
Choose from 3 shapes: All beds are 100% washable and come with a removable channeled insert which is guaranteed to remain fluffy and full for years.
Offered in 3 shapes: square, round or rectangle; 4 sizes (s,m,l) and and various fabric types: everyday cotton, premium cotton blends, flocked and indoor/outdoor.
For more Jax and Bones beds, check out our new Jax and Bones section in our shop.
ALSO READ: