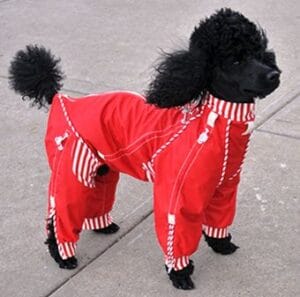 At the New York Pet Fashion show, we discovered a new company,
Zippy Dynamics that makes excellent dog coats / dog suits. We were first attracted to them because of their sporty, modern style. We also loved the fact that their dog jackets don't just cover the body/girth of the dog, but also the legs and arms. This is particularly helpful if your dog easily gets dirty, especially if they're low to the ground. Our dog is white, so this is really a problem when it's raining outside.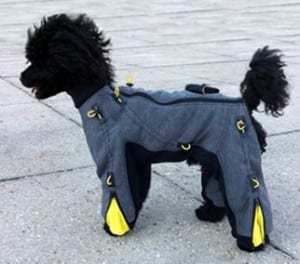 Zippy Dynamics was conceived by Alex Rabinovich and inspired by Max, their three year old adorable miniature poodle, who is modeling the suits here. Max is very energetic and loves exploring all sorts of different environments, from the sidewalk to sandy beaches. Alex lets him let run free outside (where it's safely allowed) and while Max has lots of fun, he gets very dirty, very quickly.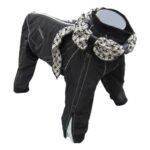 Because Max has black hair, you might think he'd be able to get away with being a bit dirty. However, while you might not see it on Max, you will see the couch and floors get dirty when Max starts to run around in the house. So Alex was left with the hassle of cleaning Max after these outdoor adventures and it sparked the idea for a line of full body dog clothing.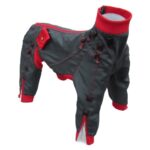 Alex with the help of his two sons, David and Ilya, and partner Paul Cantor, developed the Zippy Dynamics brand. They've worked together every step of the way from creating the company's logo to building a fully functional e-commerce website. It resulted in them developing a product that would not only save them time and energy, but would also protect dogs from the elements. We love their dog suits and now carry them in our shop.
The Zippy Dynamics dog suit is designed to give dogs a unique combination of style, comfort, and protection. The dog suit does not compress or cause discomfort to the dog's body or fur. The main zipper is on the back of the suit and zippers on each pant leg allow dog owners to easily place their dog into the suit.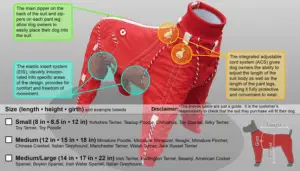 What's unique is the integrated adjustable cord system (ACS) that gives dog owners the ability to adjust the length of the body and pant legs, making it fully protective and convenient to wear. The elastic insert system (EIS), is cleverly incorporated into specific areas of the design, allows for flexibility and freedom of movement.
The true full-body design keeps the dog warm, dry, and free of dirt from the neck to the very bottom of the legs. The features combine to provide functionality and give the suit a modern, sporty, appearance.
ALSO READ: