We went to a great seminar, How to Read Dog Body Language, given by renowned dog trainer Colleen Safford of New York Walk & Train. It was held at the Tribeca Soho Animal Hospital (part of Downtown Veterinary Medical Hospitals.It was an absolutely amazing seminar and I can highly recommend going to it if you get the chance (or perhaps contact New York Walk & Train). Here are a few highlights: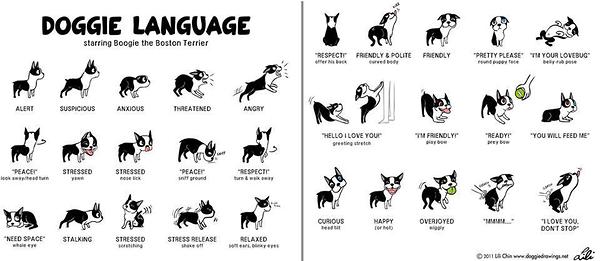 Dogs use "calming signals" to convey harmless intentions. They also use these as self calming techniques.
Dogs work diligently to avoid conflict. As a human, it's important to watch their various body language signals. Often humans don't interpret them correctly.
Calming Signals include:

Lip licking
Yawn
Head turn (yep, your dog is not ignoring you but rather using a calming signal)
Scratch at collar or neck
Shaking it off
Soft blink

Aroused Dog Signals include:

Ears up, forward
Hard stare
Tail up, stiff wag
Stiff legged, weight over front legs
Closed mouth

It's rude human behavior to do the following to dogs:

Approach a dog head on
Bend over a dog (including to put on a leash)
Making direct eye contact

Never punish a growling dog. The dog is warning us. It is a way for dogs to communicate stress and discomfort. If you punish the growl, you risk that they might escalate next time to biting without the warning of a growl.
Want to learn more? Check out our post on How to Properly Greet a Dog!