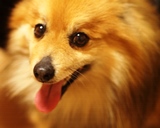 We wanted to introduce you to one of our fellow Dogsized fans: PAWS – Pet Animal Welfare Society. They are a network of volunteers who provide shelter, medical care and affection while finding loving homes for homeless and abused dogs (and cats).
PAWS has been in operation since 1962. They have rescued & re-homed approximately 115 dogs and 435 cats annually. Many of the dogs faced euthanasia at local pounds and most of the cats that they help are strays and abandoned cats that roam the local streets. A portion of the pets that come to PAWS have been relinquished by their owners who are no longer able to care for them.

They have so many cute pets and we've only posted 2 photos of the dogs currently available. Please check out their website for their full assortment of available pets. PAWS is located in Norwalk, Connecticut. If you live in NYC – it's super easy to get to Norwalk via the train from Grand Central Station. If you or a friend is interested in one of these cute pets, please contact PAWS and they would be happy to help!