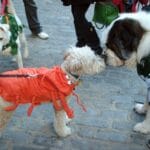 We went to the SeePaws Halloween Party on Saturday and had a great time with all of our neighbors. Prizes were awarded (1st through 5th place) to the dogs with the best costumes and Paws on Pine, The South Street Seaport and Barkbox provided gifts for all of the participating dogs.
Check out some of the cute photos from the event:
Kobi heading off to the See Paws Dog Halloween Party
Dog costume judges
Dog costume contestants anxiously await.
Elvis preparing for the costume competition.
Parading before the judges.
Kobi's checking out this little cutie…
One very grand Scottish lady

That's one big Giants fan!

This lobster can't wait to get in to the game.

What sweet little ladies




Thanks to the Event Sponsors
:
FiDi Families
The Salty Paw
Paws on Pine
The South Street Seaport