What size crate for my dog do I need? This is one of the top questions new dog owners ask. Especially, if you recently adopted a new pup but have yet to set a tiny home for them in your house. Then you need to make a quick dash to the local pet store and get yourself a dog crate.
These crates not only create a place for your pet to stay in when you aren't home, but they also make a private zone where they can feel safe. And if you didn't know already, most pooches actually enjoy having a place that they can call their own.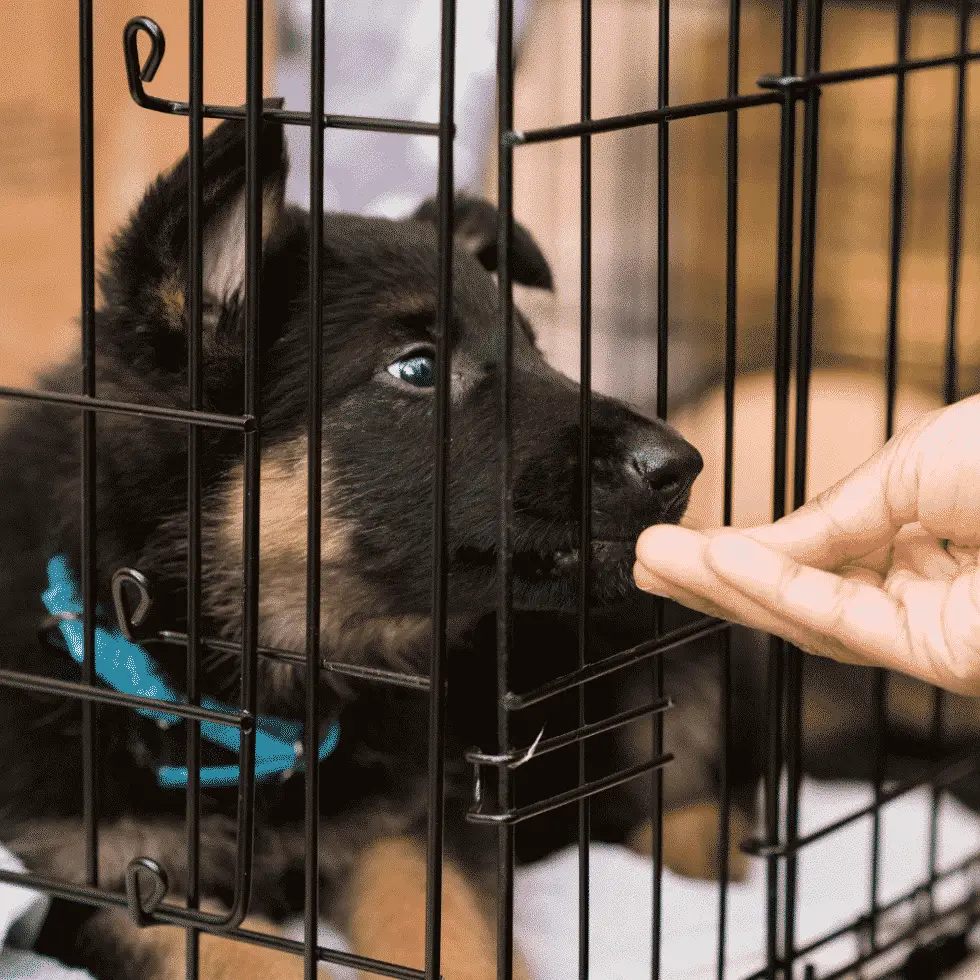 This way, whenever they feel they need time to themselves, they can quickly retreat to their dens for some "me" time. Plus, they make the housetraining process move at a much smoother pace too!
Picking the right size crate requires a certain amount of consideration. It's not as simple as walking in and picking up the first crate available. On the contrary, it's a bit more complicated than that, so let us explain.
Factors To Consider When Picking The Right Dog Crate
Is it spacious enough?
You need to remember that your pet will need enough room to stand up, move around and comfortably lay down in the crate. This means you may need to measure their length from nose to tail and add an extra 2-4 inches.
Is there room for growth?
You also need to consider how big your pup is going to grow in the future. Some breeds tend to be small while young, e.g., Rottweilers. But once they get older, they get massive, so you need to estimate their adult size and take that into account.
Is it too big?
While extra space is essential, giving them too much to roam with could lead to accidents. This is especially true if your pooch is still getting used to its crate.
TOP DOGSIZED DOG CRATE FINDS
Dog Crate Options for 10 lb Dogs
All products are linked for you to check the updated prices.
Finding the Right Crate Size
What size crate does a large dog need?
Although there are so many dog crate sizes to choose from, you still need to ensure that you pick the perfect one for them. This is also important because it will help set a positive first-time experience for them.
This means ensuring that the crate is neither too big nor too small. Now, this begs the question, what is the right dog crate size for my 10 lb dog?
Already two steps ahead of you on that, buddy. We've put together a quick size list covering the different crate sizes depending on your dog's weight. This should help you pinpoint the perfect crate in a jiffy.
Extra Small – 19 inches – < 20 lbs
Small – 24 inches – 20-30 lbs
Medium – 30 inches – 30-40 lbs
Large – 36 inches – 40-70 lbs
Extra Large – 42 inches – 70-90 lbs
Extra-Extra-Large – 48 inches – 90 lbs>
Please note that these crate lengths are measured in inches, based on an adult dog's size from nose to tail.