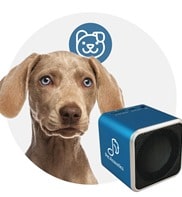 Does your dog suffer from anxiety or excessive barking when you're away or during thunderstorms? We recently discovered Pet Tunes and thought it was an innovative and non-invasive way to help your dog relax.
Pet Tunes, created by Pet Acoustics, is a mobile Bluetooth speaker pre-loaded with special frequency modulated music clinically tested and proven to reduce stress and calm anxiety for dogs (and other pets). Pet Acoustics' music is specifically designed to eliminate high and low frequencies that trigger agitation in pets and result in calming your pets.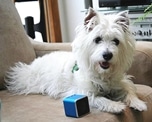 As stated by Pet Acoustics, it's been clinically proven and veterinarian approved. Litchfield Veterinary Hospital mentioned"…Pet Acoustics music has a significant calming effect on our hospitalized patients. We have found it has helped to reduce anxiety while pets were away from their families."
Pet Tunes is small enough to fit in your hand so you can take it anywhere (e.g. even in your car). It will play 5-10 hours on a single battery charge and has 24/7 continuous play with a AC/USB Adapter. The unit features a built-in repeat mode, as well as, an easy click-and-play function that links to your music library using Bluetooth. Pet Tunes connects to mobile phones, tablets, PCs, notebooks and a variety of other devices. It comes with a USB cable and a lanyard strap.
Interested? Click here to easily purchase Pet Tunes on Amazon.
To see it in action, check out their video: