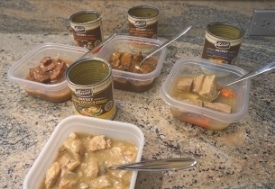 When Merrick recently came out with Chunky Can Recipes we were very excited to try them out! Merrick canned dog food has nutritious meals that cater to our dogs' specific dietary needs.
Our dog, Kobi, just loves their Cowboy Cookout Can Recipe, which has a 5 star rating on DogFoodAdvisor.com, so we knew there was a good chance our picky eater might like these Chunky Can Recipes too.
If you're wondering, how "chunky" are these recipes? Well check out our photo – you can easily see the meat chunks! All four new recipes are 100% grain-free and feature deboned meat as the #1 ingredient. You can see some real carrots and potatoes in the recipe too.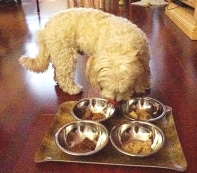 We tried out all 4 Merrick Chunky Can Recipes: Big Texas Steak Tips Dinner, Carvers Delight Dinner, Colossal Chicken Dinner and Pappy's Pot Roast Dinner. We try to make this as scientific / neutral as possible by putting each recipe in an identical bowl and putting them in a circle so as not to give any bowl preference in the line up.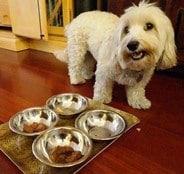 In the initial test, Kobi took his time sniffing all 4 Merrick Chunky Can Recipes and then really dove into the Colossal Chicken Dinner, followed by the Carvers Delight Dinner.
On the next day, we added Kobi's favorite Cowboy Cookout Can Recipe to the taste test to see if he would go for his old favorite or one of the new recipes. After the overall sniff and lick test, Kobi first happily chowed down Pappy's Pot Roast Dinner followed by the Colossal Chicken Dinner. Cowboy Cookout, Big Texas Steak Tips Dinner and Carvers Delight Dinner all tied for third place.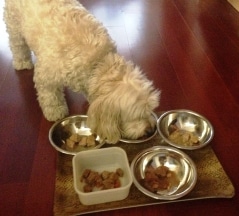 Merrick Chunky Can Recipes were paws up approved!
Kobi's picky palate was heartfully pleased with these recipes. We also feel rest assured with these recipes as they are made in the U.S. with no ingredients from China. They're also grain free and gluten free.