There are so many dog beds out there. It can be hard to find the perfect one for your best friend. Picking out the right small dog bed for your dog isn't a random decision when you're looking for warmth, comfort, quality, and style.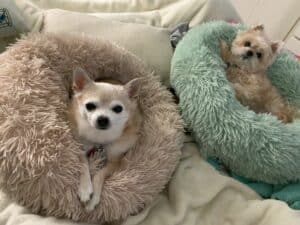 Whether you're looking for a pet bed for older dogs or little dogs, or an orthopedic dog bed for a pup with joint pain, we've carefully searched and selected some of the most fabulous small dog beds (all linked for easy shopping and in no particular ranking order) for your dog: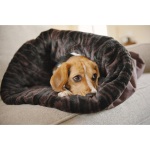 1. Reversible Snuggle Dog Bed
If your dog loves to burrow, he'll love this reversible snuggle dog bed. It can be arranged into 4 different shapes – flat, cave, cup or pod.
The reversible feature is a good choice if you want cool cotton canvas on one side and warm faux fur on the other. The entire snuggle dog bed can be thrown into the washer and dryer for easy cleaning.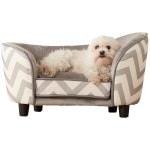 2. Luxurious Small Dog Sofa Bed
You can surround your dog in style and comfort with Enchanted Home's luxurious small dog sofa bed.
Its real upholstered furniture and raised to prevent a draft from coming over your pup. Fits pets up to 12 lbs and comes in 5 different colors/designs.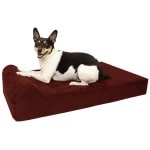 3. Orthopedic Dog Bed with Headrest
This orthopedic dog bed has 4 inches of high-density orthopedic foam, which will mold perfectly to your dog's joints.
Feels wonderful and relieves stress on pressure points. This superior quality bed allows your dog to stretch out and have perfect weight distribution.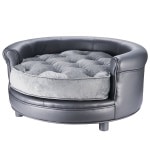 4. Villacera Chesterfield Leather Dog Bed
Is your dog the king of your home? Then the Chesterfield Dog Bed by Villacera is a perfect choice. This stately bed with old world charm is made of real leather.
Available in Rustic Brown, Rich Tan, or Classic Gray, with a plush, color matched reversible cushion that buckles to the hardwood frame.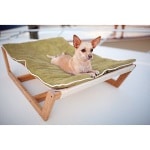 5. Pet Lounge Studios Small Dog Hammock
This Bambu Hammock's combination of clean lines, unique sleeping surface, and rich eco-friendly materials make it a very popular design.
The Hammock is designed with a solid bamboo frame and a removable/reversible ultra-suede cushion.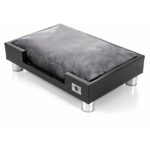 6. The Madison
A very chic and modern dog bed design that will easily fit into your home decor.
The LazyBonezz Madison dog bed comes in a variety of sleek colors/fabrics and stands on four thick stainless steel legs. The cushions are also machine washable!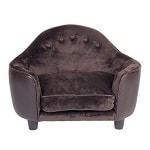 7. Ultra Plush Small Dog Bed
This Ultra plush pet bed will ease your dog into a luxurious cushion that engulfs them in complete comfort and warmth. It includes storage for toys and bones.
The removable/washable cushion cover makes cleaning easy. This small dog bed is made for dogs up to 10 lbs. Comes in black, brown, and cream.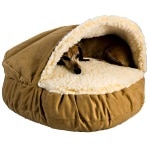 8. Snoozer Luxury Cozy Cave Pet Bed
Snugglers will have no issues with this round dog bed. The cave style nesting pet bed is perfect for breeds that like to burrow.
It gives your dog a place to stay completely enclosed in washable Sherpa interior fabric, keeping them warm throughout the year. Comes in a variety of colors to easily fit in your home.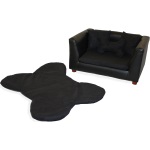 9. Deluxe Orthopedic Memory Foam Dog Bed Set
This small dog bed is recommended for small and miniature dog breeds up to 10 Lbs. It has an orthopedic memory foam cushion for great comfort and support.
This long lasting real furniture (with a wooden frame) comes with matching pillows, a toy and a mat. It's easy to clean with a stain resistant microsuede zippered cushion. Comes in a variety of colors / patterns.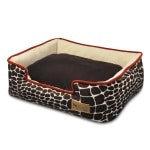 10. P.L.A.Y. Urban Lounge Dog Bed
Pick up your paws and curl up with the Urban Lounge Dog Bed. This cozy retreat will entice your pup with its combination of posh design and lasting comfort.
The elevated sides are an ideal resting place for your pup's head and create the ultimate pooch retreat. The inner cushion and exterior can be flipped, allowing you to enjoy 4 different looks in one bed. Comes in a variety of colors / patterns.