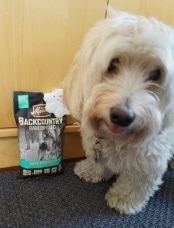 We love grain free dog food and it's also no secret we're very fond of Merrick. This year Merrick came out with a new grain free dog food called Backcountry. Merrick calls it the ultimate all natural, grain free, high protein ancestral diet. The Dry Line has protein rich kibble, freeze-dried real meat pieces and comes in 4 recipes: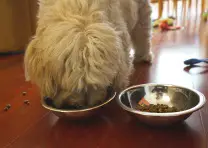 Our dog Kobi tested and LOVED the Game Bird Recipe. When we give Kobi new dog food to test, we always give him a bowl of his normal kibble and the new kibble to see how he likes it in comparison. Typically on the first try, he'll eat a bit of each dog food. On the next few tries, we'll see which one he really gravitates to.
With the Merrick Game Bird Recipe it was hands down a winner on the first try! Kobi ate a little of each and then completely ate all of the Game Bird Recipe. I think Kobi especially liked the extra freeze-dried meat. Kobi also had no bad side effects from trying this new grain free dog food.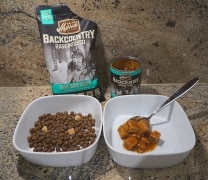 Merrick also has 7 Backcountry wet/can recipes:
All Merrick Backcountry dog food is made in the U.S. in Merrick's own Safe Quality Food Level 3 organically certified kitchens. De-boned meat is always the first ingredient. Each recipe contains high quality ingredients and none of the things dogs don't need:
No grain or gluten
No corn, soy or wheat
No artificial colors or preservatives
No ingredients from China
Dogsized gives Merrick Backcountry our thumbs & paws up!