As you know, we do a lot of product reviews, and as a result, we do end up with a lot of extra things we wouldn't necessarily use for ourselves or use as a giveaway.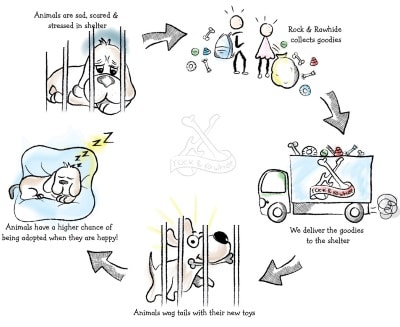 A while back, we had collected a pile of doggie products to give to a shelter.
We called around to see what shelter we could donate to, but the ones we spoke with were quite picky with what they would accept…which totally shocked us!
We thought they would be happy to accept dog product donations.
Alas, when we were recently at our vet (Seaport Animal Hospital) for a routine checkup, we saw a bin for donations to Rock & Rawhide.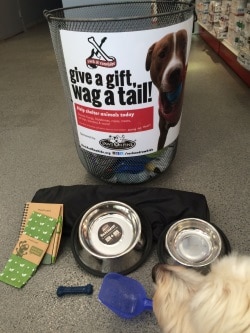 Rock & Rawhide's mission is to increase adoptions and quality of life of dogs and cats in shelters by providing distraction therapy and noise/stress reduction through the donations of toys, tough chew items, Kongs, Nylabones, rope toys, bones, rawhides, blankets and more.
If a dog is chewing, it's not barking! Less noise = less stress. In turn, dogs can pass their evaluations at shelters and show more of their personality, making them more adoptable.
What's great is that Rock & Rawhide collects the donated items and distributes them to adoption shelters based on need.
For us this was the perfect solution! We can give back to shelters and also be more environmentally friendly by not tossing out dog products we don't need.

Rock & Rawhide will collect items through donations at individual's homes, offices, schools, music gigs, visual art shows, culinary events, DJ events…ok, the list is endless.
They also create drive-by collection days where they will drive to individual's homes in a particular area to take their donations.
To learn more about Rock & Rawhide, check out their website. We'll definitely be donating to them again!