In our prior post, we highlighted the steps on what you need to do several days before your flight with your dog on a plane.
What to Bring for Your Dog for the Day of Travel
Your dog, plus their airline approved dog bag
Typical things for a "walk": collar, leash, poop bags
Health certificate from vet
Microchip number (if applicable)
Dog food &/or treats (have a little on you just in case he gets hungry or needs an incentive)
No-odor bully stick – I think this is helpful so your dog doesn't get too bored or anxious
Favorite small toy(s) for entertainment and comfort
Some paper towels, just in case your dog gets sick or spills something
If it's a long flight/journey, consider bringing pee pads. No matter how old your dog is, it's better be safe than sorry.
Calming Treats – Just for emergencies, I've only used it once towards the end of a 10-hour flight when my dog was getting really anxious and starting to eat his dog bag. It's better if your dog goes without. However, if your dog is not comfortable traveling this might be a good option.
Don't bring water – it's not allowed to bring on the airplane and you can get some from the stewardess
Day of Travel with Your Dog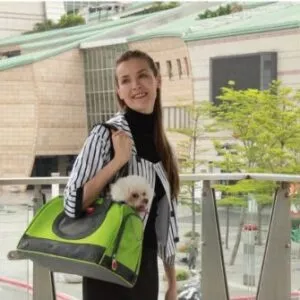 If you have a ticket for a dog, you cannot check-in in advance! In my experience, airlines forget to tell you this. So even if it's not on their website, I highly recommend you anticipate this and go extra early to the airport. Also, you cannot self-check in or do curbside check-in.
I actually missed a cross-country flight because of this issue. The airline didn't mention I had to check-in at the counter. I tried to check-in at home but was unable to.
When I got to the airport (early), I couldn't self-check-in. Then I waited in a long line to be checked in at the counter. I missed Delta's cut-off by 4 minutes, which means I was at the counter 56 minutes before my flight.
Rules were rules and I got bumped off my direct flight and had to be re-routed across the country with several connecting flights. As you can imagine – I was livid!
Post-Check-in on Day of Travel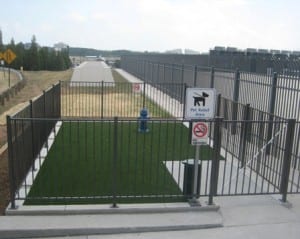 Ok – you're checked in with your dog – it's time to celebrate and breathe! At this point, you're in the airport terminal. Some terminals have some outdoor space for dogs &/or smokers.
If so, definitely give your dog the opportunity to go to the bathroom again before your flight. Alternatively, you can also try to do this in a human bathroom stall with a pee pad.
Now on to the security check. This will be annoying as normal, except now you have a dog and will actually need to get him out of his dog bag and physically carry him through the human metal detectors.
First, load up all your stuff on to the security belt to be x-rayed, including your shoes, belt, etc. The last thing you need to do is take your dog out of his bag. While many dogs likely jump out of their bag, this is when my dog, Kobi, refuses to get out his bag, so I generally have to wrestle with him for a minute and then he pops into my arms. (At this point you'll probably hear other people coo-ing about how cute your dog is).
Tip: have a couple treats in your pocket to make this process go really smoothly. Also, make sure to take off your dog's collar as it probably has loads of metal things on it that will set off the machine. Go through the human metal detector with your dog in your arms and then go get your stuff post-xray.
First thing – put your dog in his bag and put on his dog collar. (Give your dog a treat if you have one.) Then get your stuff.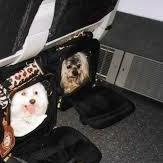 The good thing now is that while you're not even on the plane yet, you've basically completed 90% of the hassle due to traveling with a dog. From now on, all you need to do is get to your seat and put your dog at your feet under the seat in front of you.
Make sure your dog has appropriate ventilation, e.g. one of the dog bag "windows" should not be blocked (see example to the right). I also typically close the shades on the other windows so my dog can relax and have a nap.
My dog usually just rests during the flight. If he's a bit restless, I'll give him a bully stick or a small toy. I've also made sure to give him a treat or two during take off so he doesn't worry about the sounds. Just make sure to check on him occasionally during the flight to make sure he's fine. Bon voyage!