We've spoken with many people that have questions about foster dogs. So we asked Sarah Oren Brasky, CEO of Foster Dogs Incorporated and editor of fosterdogsnyc.com to answer many of your frequently asked questions:
1. I've never had a dog before, but am considering getting one. Could I "try out" having a dog by fostering a dog? What if I don't like my foster dog? Can I return him and get a new one?
Fostering a dog means saving a life – and improving yours at the same time!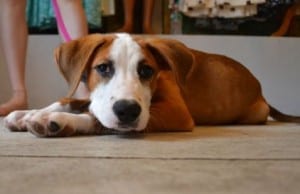 If you are unsure about a long-term commitment to a dog, then fostering is a wonderful option! Sometimes, people are interested in adopting a dog but are unsure whether the variables will work out (personality, age, size, etc) once the dog comes home. My best advice if you are "trying out" a dog is to commit to an amount of time so that the animal rescue group can plan ahead. Even if things are not working out as planned, it's important to stick to your commitment unless the circumstances become dire.
For example, let's pretend you offer to foster a five month old puppy. You've always wanted a puppy! Well, you bring the dog home and suddenly you realize that he is chewing up your flip flops and peeing on your rug. This is your moment of glory. This is not the time to "trade in" the dog for another foster model, rather this is your chance to improve this dog's life, teach and prepare him for an adoptive home. Perhaps a puppy wasn't what you wanted, after all… And that's okay!
Once you've fostered one dog, you can switch it up the second time around and try an entirely different type of pooch! Fostering is exciting, and it's important that you feel enthusiastic and comfortable.
2. What kind of stuff do I need to get if I'm fostering a dog? Would you provide anything? What about medical costs?
When fostering a dog, you might be asked to purchase food and basic items. This is not a huge expense, and can run about $20-$40/month. Toys, collars, and leashes can be purchased on clearance racks at Petco and Petsmart – check 'em out. Sometimes, a rescue group will provide the leash and collar. Usually, a crate is not provided – especially for large dogs (more expensive and harder to schlep!) – but there are ways to get creative with your apartment/home and create safe spaces for your foster dog to stay while you're out.
3. Can I pick the kind of dog I want to foster? For example, I'd rather have a small dog because I live in a small apartment.
Be clear about your requirements, but keep an open mind. If you request to foster a purebred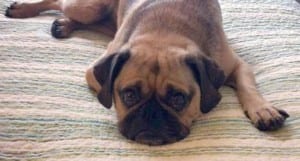 Havanese puppy under 10 lbs, chances are you'll be waiting a long time. But if you give a size range (small, medium, large, extra large) and general personality type, that can be a big help. Some buildings have breed bans (no pit bulls or "bully breeds"), so you should look into that before bringing in a new dog. And ALWAYS check with your roommate before bringing an animal into your home. If they say "No" once the foster dog is already in your home, it's not a good situation.
4. Are these foster dogs house trained?
Often, people request a dog that is perfectly housetrained and never barks. Well… those are two things that have no guarantee, and are part of the overall foster process. There are times when a dog is "perfect" in the home, but be aware that many dog have accidents in their first couple weeks of being in a new place. A new home can be scary for the dog! As a foster owner, be prepared to teach yourself through plenty of Google searches (and of course Dogsized): how to train your dog, how to housebreak, socialization with other animals, behavior modification for shy dogs, curbing separation anxiety, leash training, and more! Foster owners help make that dog the best dog he or she can be, in order to find a wonderful adopter!
5. How long of a commitment is it to foster a dog?
This is a commitment that can last anywhere from 1 week to several months. Sometimes, a dog needs a three-day foster home while she waits for her adopter's application to get approved. Or perhaps a pregnant shelter dog is about to give birth, and needs a quiet place to raise her puppies. Sometimes, a dog is deteriorating mentally in a shelter and needs a long-term place where he can learn to be "normal" again and can adjust to a daily routine. There are hundreds of reasons why dogs end up in shelters, and you can be their safety net to provide them with a second chance.
Regarding time commitment: know your limits, and be clear with the rescue group if you are unable to foster past a certain date. No matter what your schedule, fostering a dog is a truly wonderful deed – and saves lives!
6. How do you apply to be a foster to a dog?
Starting the foster process can be the most intimidating part: you hear that there are dogs in need, but how do you get started? Foster Dogs NYC has many links and articles about fostering, all geared to help out a new foster owner. I recommend going about it two ways:
1. Search the dogs on www.fosterdogsnyc.com, read their stories, and see if you are drawn to any of them. Each dog's contact info is on their profile, so you can reach out directly to the rescuer.
2. Search through lists of rescue groups and apply to a group whom you feel comfortable with, or have heard good reviews about. They can then set you up with a foster dog that's right for you! https://fosterdogsnyc.com/want-to-foster-rescue-groups-need-you/
If you have more questions, you can read the inside-scoop on what to know when fostering for the first time: https://fosterdogsnyc.com/advice-for-a-new-foster-parent/