It's great to spend time with your dog outside. Just remember to take some simple precautions to help prevent your dog from overheating during the hot weather. Here are our Hot Weather Tips for Your Dog:
Hydrate
Make sure to bring water with you – not just for yourself, but also for your dog. Check out these water bottles for dogs.
Shade
Look for a shady place for your dog so they can get out of the sun and cool down.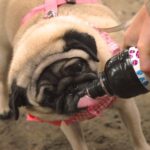 Street Smarts
When the temperature is high, don't let your dog walk on hot asphalt. Being so close the ground, your dog's body can heat up quickly, and its sensitive paw pads can burn.
Not sure if it's hot? Well if it's too hot for your foot, it's probably too hot for your dogs. Press the back of your hand firmly against the asphalt for 7 seconds to verify it will be comfortable for your dog. The last thing anyone wants is for your dog to burn his paws.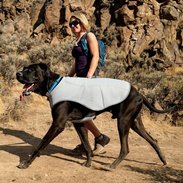 If you live in an area where the ground is always scorching hot, consider getting your dog some dog booties for hot weather.
Exercise
Try to exercise dogs in the early morning or late evening when temperatures are lower. If your dog quickly overheats, you might want to try out a cooling coat.
Water Activities
Dogs, like people, often love to get wet when it's hot outside. Make sure to introduce your dog to water gradually and don't leave them unsupervised around a pool as not all dogs are good swimmers and they should not drink pool water, which can be toxic.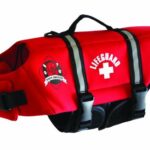 Dogs should wear a flotation device when on boats (just like us humans do). Never take your dog to the beach unless you can provide a shaded spot and plenty of fresh water for them to drink. Consider having your dog wear doggles to protect their eyes.
Remember to rinse your dog off after swimming to remove chlorine or salt from their coat.
Sunscreen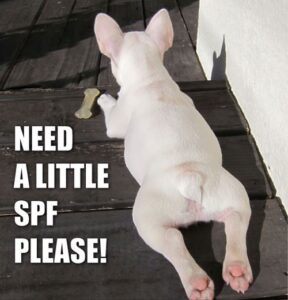 Sunburn is a hazard for pets who spend time outdoors. Use a pet-safe sunscreen to protect your dog from the sun's harming rays, which can cause skin cancer especially of the ears and nose. Feel free to trim longer hair on your dog, but never shave your dog – the layers of dogs coats can protect them from sunburn.
Warning Signs
If you find your dog excessively panting or just not wanting to exercise or walk as they normally would, your dog might be overheating. Try to get them out of the sun and preferably in an air conditioned room asap.
Don't Leave Your Dog in the Car!!!
NEVER leave your animals (or children) alone in a parked vehicle. A parked car can become an oven and easily lead to fatal heat stroke for pets and children. Please keep them at home if you can't bring them with you.
Now that you have the tips – go outside with your best friend and enjoy a great, safe summer!

ALSO READ