Pet friendly hotels are essential for those of us who travel with our dogs. Traveling with your dog can be a lot of work to plan, so we've come up with a list of pet friendly hotels groups to make travel plans with your dog easier.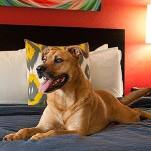 Some of these hotel groups will give your dog first class treatment from luxurious beds and treats to assistance in finding a dog walker.
Six Pet Friendly Hotels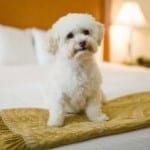 Kimpton Hotels
If you're looking for a great pet friendly hotel to stay, our number one choice is Kimpton Hotels. They welcome any pet, regardless of size, weight, or breed for zero fees or deposits at all Kimpton hotels.
They are stylish boutique hotels and if you don't know the "Kimpton" name, you might know some of their hotel names: Hotel Palomar, Hotel Monaco and the Muse. Some of their hotels even have dogs on staff!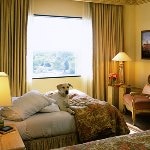 Loews Hotels
All their properties have a Loews Loves Pets program. Upon check-in, every pet receives welcome gifts including a name tag, bowl, and special treats.
In case you forgot something, they can loan you pet beds and other items. Your dog hungry? They have room service pet menus. They also provide dog-walking routes, pet-sitting or pet-walking services, as well as a list of local pet-friendly restaurants.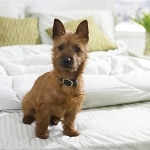 Starwood Hotels – Sheraton, Westin and W Hotels
The Sheraton, Westin and W Hotels welcome dogs brand-wide in the U.S. and Canada.
We've heard that at the Westin, not only do you get a heavenly bed, but your dog gets a "heavenly dog bed" too! It's easy to search for all Starwood Hotels that allow pets: go to Advance Search and check "Pets Allowed" under Hotel Features and Amenities.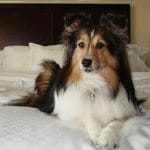 Marriott Hotels
While not all Marriott Hotels allow pets, they do have over 1,200 pet friendly hotels. You need to go to their "Pet Friendly Hotels" page to either search by location or use the filter to search for a pet friendly hotel. We didn't notice the "pet friendly" option on their normal advanced search.
IHG Hotels – InterContinental, Hotel Indigo, Crowe Plaza, Holiday Inn
As with Marriott, not all IHG hotels allow pets, but at least they do have a Pets Friendly Hotels page so you can look for pet friendly hotels across their brands by location.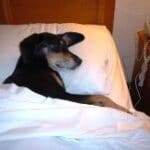 Best Western Hotels
Best Western has an easy search functionality to find their pet friendly hotels. Best Western pet friendly properties will allow up to two dogs in a rented room, with a maximum size of 80 lbs per animal.
When making reservations, they recommended that you call the hotel directly if you have specific pet-related questions and to guarantee the availability of a pet friendly room.
We've read that some Hilton and Mandarin Oriental hotels allow pets. Unfortunately, neither of them had website search functionality to easily find pet friendly hotels.
We continue to update our pages, so please let us know if you have any other dog travel friendly resources you think will be helpful to the Dogsized community.