Are you bored with your job and want some adventure? Why not become a musher for dog sledding? We just saw that Muddy Paw Sled Dog Kennel is looking for mush dog sled enthusiasts and will train! Wow – now that would be some excitement.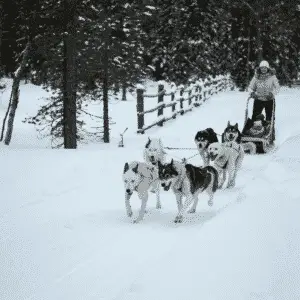 Muddy Paw Sled Dog Kennel is a premier dogsled touring operator in New England located in the White Mountains of New Hampshire.
There is a kennel comprised of over 100 sled dogs, ranging from racing Alaskan Huskies to more traditional breeds like Siberians and Malamutes.
Regardless of breed, their dogs all share common traits of friendliness towards people, a love of running, and an athletic & competitive nature.
Muddy Paw Sled Dog Kennel focuses on rescuing Alaskan huskies needing a home, giving them a "job for life."
Not ready to leave the corporate life but want a taste of adventure? They offer dog sledding rides ranging from 2 – 50 miles, including dog sledding overnight trips.
They welcome guests of all ages and abilities to meet their rescue and second chance sled dogs, pet them, help to harness/hitch the teams and even help drive!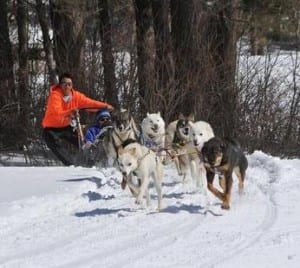 Muddy Paw Sled Dog Kennel is located in the heart of the White Mountains, 2 hours from Burlington, VT, and 45 minutes from North Conway, NH.
They are near the Mountain View Grand Resort, Applebrook Bed & Breakfast, the Town and Country Motor Inn, and the Gorham Motor Inn.