Running with dogs can be a fun and rewarding way to exercise and bond with your pup while getting your exercise.
Finally, we're back to spring and ready to go running again. Interested in running with your dog? Here are some of the highlights of a great Jack Rabbit class we went to on how to run with your dog:
Running With Dogs
It was an evening with dog "runner" Jerry Sticker on how to run with your furry friend and get him to love the miles as much as you do! 
We got some amazing tips on how to run with your dogs:
Don't run with your dog if it goes over 85-90 degrees
Bring water on your run for your dog
Don't use a retractable leash
Use a short leash (6 ft). It will help you to better control your dog. He's less likely to zig zag on a shorter leash.
If your dog likes to stop/sniff/pee a lot when he's outside, make sure to use the leash to guide his attention back to the run
If your dog gets distracted by birds, squirrels, etc. when he's outside, make sure to use the leash to guide his attention back to the run
If your dog gets easily distracted, bring a favorite ball or toy with you on the run. Use it to regain his attention. At the end of the run let your dog play with the favorite ball or toy
If your dog is a beginner runner, make sure to start slowly and work up to longer distances overtime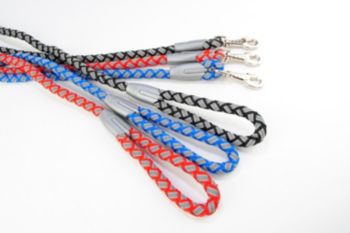 Jerry also recommended a leash that was round. It looked similar to the leash left, except this Nite Bright leash has the added benefit that it is also reflective which is great for safety.
One of our favorite, award winning, active dog products brands, EzyDog, also has a hands-free running leash for your dog.
The Road Runner is the ultimate hands free dog walking/running experience. The sliding side-release buckle allows you to alter the length of the leash or unclip to wear it around your waist, shoulder or hand.
The incorporated Zero Shock Technology is the advanced shock absorbing component in the center of the leash that cushions and eases the pressure for both the owner and the dog.
It also incorporates reflective trim for night-time safety and the hands-free adjustments make it perfect for running with your dog.
ALSO READ