With the holidays right around the corner, we put together our top 20 dog gifts list. All products are linked for easy online shopping. We love all the top 20 products, so they are not listed in any particular order. If you're getting a gift for your best friend or buying a gift for another dog, these top 20 dog gifts will be sure to put a smile on any dog's face: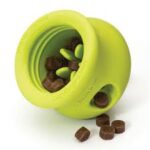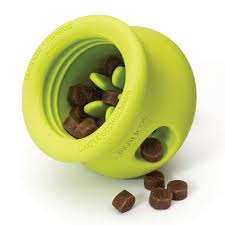 1. West Paw Toppl Treat Dispensing Dog Toy
Our dog Kobi loves his Toppl. We can easily stuff a bully stick in it and the Toppl makes it much easier for Kobi to hold.
It traps treats with its inner ridges. You can interlock two Toppl dog treat toys and it makes it more of a challenge for your dog to get at the treats inside. Learn more in our review.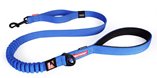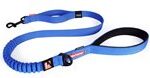 2. Ezy Dog Zero Shock Leash
We can't think of a dog owner that wouldn't want a zero shock leash.
EzyDog's Zero Shock Technology cushions and eases the pressure for both the owner and the dog. Drastically reduces strain and pull. A "one for two" gift! Read more in our review.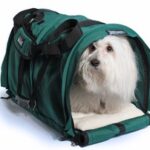 3. SturdiBag Flex-Height Carrier
It's by far the lightest bag we've seen on the market! The large SturdiBag has been tested to safely carry a pet up to 40 pounds and the bag only weighs 2.6 pounds!!!
The design is made to flex down when your dog is under airline seats and pops back into shape after the flight. Learn more in our review.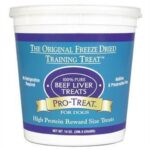 4. Pro-Treat Beef Liver, Freeze Dried Dog Treats – Yum!
Paws down, Pro-Treat Beef Liver, Freeze Dried Dog Treats are Kobi's favorite treats.
In fact, we've nicknamed them "doggie crack". They're are made in the U.S. without additives or preservatives in a USDA inspection facility.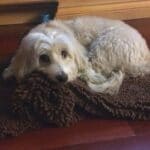 5. Dirty Dog Doormat by Dog Gone Smart
We tested out the Dirty Dog Doormat and our dog LOVED it!
It's very soft and absorbent. In fact, he loved it so much that we've replaced it as his full time dog bed – a delightful surprise! Read more in our review.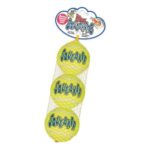 6. KONG Squeakair Tennis Balls – Dog Toy
You can get plain boring tennis balls or you can get these bouncy, squeaky balls!
They are by far one of our dog's favorite toys! It bounces and it squeaks – what's not to love? The ultimate classic (and cheap) dog toy. These come in various sizes.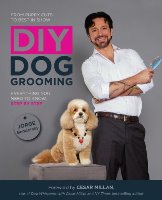 7. Book: DIY Dog Grooming by Jorge Bendersky
This book is paws down one of the best books dog grooming we've ever read. It's a quick read, includes excellent photos, illustrations and a lot of valuable information.
The book goes through a variety of topics from tools to trimming and tough cleaning problems. Read more from this product review.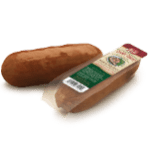 8. Merrick Gourmet Sausage Treats
A perfect stocking stuffer for your best friend.
These Merrick Gourmet Sausage Treats are real sausage and similar in texture to a hard Italian sausage. They're created from real meats from USDA, New Zealand and Australian growers. Learn more in our review.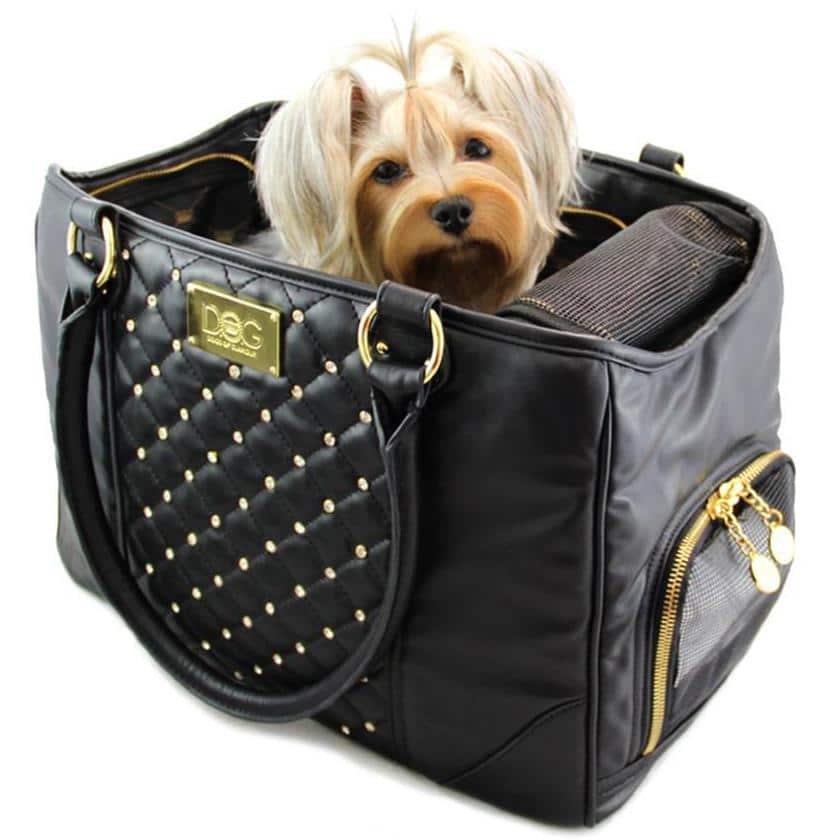 9. Dogs of Glamour Glam Tote Dog Carrier
Perfect for your jet setting dog! The Glam Tote from Dogs of Glamour fuses fashionable form and function into your look.
Crafted from faux leather and featuring top and side ventilation, this dog carrier adds chic yet practical style to both you and your dog.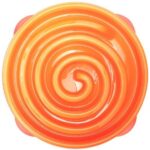 10. Slo-Bowl Slow Feeder Dog Bowl
Did you just give your dog some kibble and seconds later it's gone? Are you wondering if he inhaled it?
Alas, there's a great solution – we fell in love with the Slo-Bowl Slow Feeder, which will slow down your dog from eating too fast by turning meal time into a game.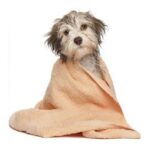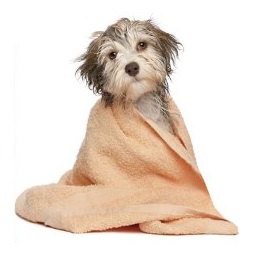 11. Wahl's 100% Natural No-Rinse Waterless Shampoo
During the slushy and rainy weather our dog's paws can get very dirty. This No-Rinse Waterless Shampoo is amazing!
We take a dry towel and spray the mousse on the towel or on his paws and rub them down with the towel. It does a great job at cleaning dirty paws and saves us from having to give our dog's paws a bath after every walk in the rain. Read more in our review.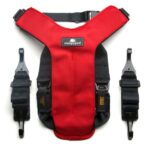 12. Dog Car Harness – Clickit Utility from Sleepypod
Sleepypod's Clickit Utility was the Top Performer in the Center for Pet Safety test.
Clickit Utility's three points of attachment absorb force in a frontal collision by dissipating energy and keeps the dog in the car seat during impact.

13. Starmark Treat Dispensing Chew Ball
Looking for a tough dog toy? We were forewarned that no toy could hold up to Abe's jaws of steel, but this toy easily survived the test!
It can be filled with a variety of treats to keep your dog mentally stimulated and happily occupied. The material is stronger and lighter than natural rubber and is free of latex, vinyl & phthalates.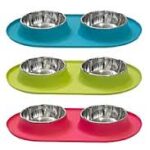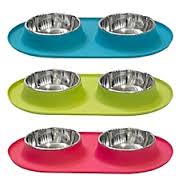 14. Messy Mutts Double Feeder
They call themselves Messy Mutts, but we think they aren't messy at all – rather fashionable and function-able!
Their products inspired us to do our first VIDEO product reviews. The Messy Mutts Double Feeder for dogs is made with a non-slip silicone base that prevents damage to your floors. The bowls are stainless steel and the base comes in a variety of colors.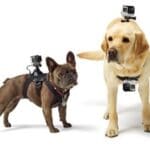 15. GoPro Fetch – See from Your Dog's Point of View
With the GoPro Fetch harness you can affix a camera to your dog.
The harness features two mounting locations for a variety of perspectives: the chest (for bone-chewing, digging, and front-paw action) and your dog's back (for over-the-head shots of running, jumping, and play).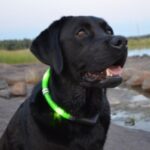 16. Glowdoggie LED Dog Collar
We were impressed by how bright the Glowdoggie is!
It's the brightest all-around dog collar we've seen on the market, and it's not annoyingly bright, either. Our neighbor has had one for over a year and loves it. Learn more in our review.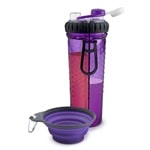 17. Popware or Pets H-Duo with Companion Cup
The Popware for Pets H-DuO with Companion Cup is a bottle with two 12-oz watertight chambers so you can hold two different drinks or, if you prefer, put water on one side and treats (or food) on the other.
It includes an 8oz collapsible cup that clips onto the bottle, making it ideal to travel with your dog.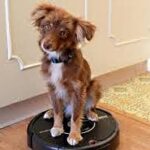 18. iRobot Roomba – Cleaning & Entertainment!
Too much dog hair on the floor? We found a solution! This little robot vacuum removes dirt, dust, pet hair and other debris all on its own.
This little iRobot going around the house will likely amuse your dog. You can make it even more entertaining by putting treats or your dog's little toys on it.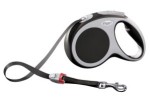 19. Flexi Vario – Multidimensional Leash
This customizable lead has clever accessories, from interchangeable belts to a light or treats holder attachment.
It's also comfortable with its ergonomic soft grip and adjustable grip size. Learn more about this product in our review.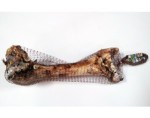 20. Tasman's American Bison Meaty Bones
Does your dog chew bones or raw hides in seconds? These are the largest bones for dogs that we've ever seen!
We're positive it would take quite a while, possibly weeks or months, for your dog to chew through these. They're made in the USA and raised without added hormones or antibiotics.