You've hung all the stockings and now are just looking for unforgettable gifts to stuff them with. Our list of great Stocking Stuffers for Dogs can help you fill your best friend's stocking with great items to make your dog jump for joy.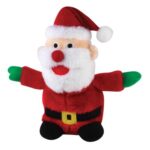 1. Plush Holiday Santa Dog Toy
This Santa Dog Toy is a musical way to sound out this holiday season. It plays the "Santa Claus is Coming to Town" song. This adorable dog toy is soft, plush and durable that stand up to rough-and-tumble canine games.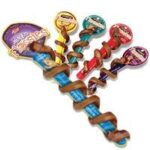 2. Merrick Flossies
We have not met a dog yet who has turned down one of these tasty treats! The unique design of this treat (made from a beef tendon) creates a natural chewing friction against the teeth which helps to clean a dog's teeth – tasty and beneficial!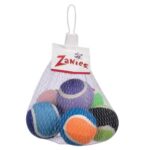 3. Zanies Tennis Ball Minis
Zanies Tennis Ball Minis are a set of six balls in fashionable color combinations that stand out from the pack. The mini size is easy for small dogs to pick up and play with.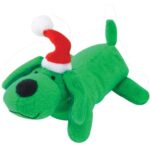 4. Santas Lil Yelpers Dog Toy
Just in time for the holidays! This big smiles reach from floppy ear to floppy ear and their bright red Santa hats are complete with a pom-pom tip. These Plush Santas Lil Yelpers Dog Toy are great for chewing, throwing and carrying around.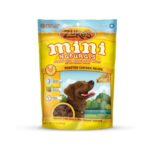 5. Zuke's Mini Naturals Dog Treats Roasted Chicken Recipe
What dog doesn't like treats? Luckily, with these you can help your dog also maintain a healthy lifestyle with nutrient-rich cherries, rosemary, and turmeric. Less than 3.5 calories per treat! The perfect little size and amazing taste to keep training fresh, healthy and fun.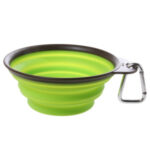 6. Top Paw Collapsible Travel Bowl
This travel dog bowl collapses to less than 0.5 inches thick and is great for traveling, camping, walks and pet sport events. The expandable food and water travel bowl can latch onto your dog's leash when you are on the go.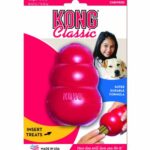 7. The KONG Classic – Food Stuffed Toy
This is the gold standard for food stuffed dog toys and has been recommended by vets and trainers more than any other dog toy. KONG's performance and durability is legendary and extremely tough for long chew sessions.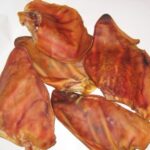 8. Roasted Pig Ears
Dogs love to chew on pig ears and they last a long time! Pig ears are a great source of protein for your dog. In addition, they help promote healthy skin and a shiny coat while helping to prevent bad breath and clean teeth.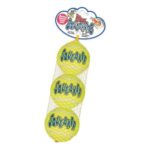 9. KONG Squeakair Tennis Balls – Dog Toy
Already shaped to easily stuff in a stocking – this is by far one of our dog's favorite toys! It bounces and it squeaks – what's not to love? These come in various sizes. Our dog has both small and medium sized ones.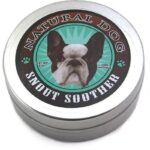 10. Natural Dog Snout Soother
This nose balm is the perfect blend of 100% all natural nourishing, healing and moisturizing ingredients. A dog's nose is highly sensitive and can become very painful when their tissues are dry, chapped or cracked. Snout Soother comes to the rescue for a dog's nose (or paws).
All products are linked for easy online shopping.