We were recently asked for some advice on flying with dogs across the U.S. Clearly a large dog is not going to be able to fly with you in the plane cabin as they're not going to be able to fit under the seat in front of you.
So you're going to have to check them in as luggage or cargo. (For advice for in-cabin flying tips see our article: Flying with Your Dog on a Plane In Cabin.)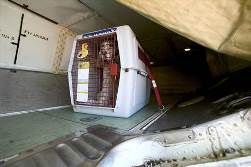 We did some research and got some advice from dog owners that have flown across the U.S. with a dog NOT in cabin.
(There's even an undercover video of one dog's experience at the bottom the article.) Here's our sum-up and tips:
Make sure your dog is eligible to fly
The airlines have different rules for the types of breeds they will transport, for example, they might not take dogs with certain types of snouts (e.g. snub- or pug-nosed dogs) or bully breeds.
You need to have a health certificate from your vet 10-14 days prior to your flight stating that your dog is in good health and fit to fly.
Many airlines will require that your dog is micro chipped. You might need a letter of acclimation stating what temperatures the dog is comfortable in.
Your vet should also provide a letter showing that your dog is up to date on all vaccinations.
Make sure there are no weather related restrictions
Due to temperature conditions, some airlines may not fly pets as luggage or cargo during the hot summer months or cold winter months depending on where you are flying from or to.

Know your dog's travel options
Some airlines make a distinct service classification if your pet is "checked luggage" or flying as "cargo".
Delta Airlines has this distinction between "pets checked as luggage" and "cargo".
The Delta Pet First (cargo) program provides year-round transportation for pets and is designed to address the special needs of all warm-blooded animals that are shipped without their owners.
So if you want to be on the same flight as your dog, remember to clarify you want your pet to be "checked luggage".
When you're calling your airline to make you dog's reservations, make sure you clarify the service.
Book in advance
Airlines often require advanced booking for pets as checked baggage (e.g. at least 48 hours before departure).
There can be restrictions on the number of pets on a plane so you should book as soon as possible to reserve a space.
Get a direct flight
This isn't going to be a fun trip for your dog, so you'll want to make the trip time as short as possible – fly direct! This will also reduce the risk of any unpleasant experiences during transfers.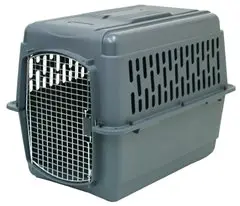 Have an appropriate kennel
To transport your dog as checked baggage or cargo, you must use an approved shipping kennel, and it must ship in accordance with the U.S. Department of Agriculture (USDA) guidelines. (Check out our crates/kennel section)
The kennel must provide enough room for your dog to stand and sit erect — without the head touching the top of the container — and to turn around and lie down in a natural position. Some airlines require that the kennel must:
be constructed of rigid plastic, wood, metal or material of comparable strength with solid roofs; no cardboard kennels
have ventilation openings on three sides, in addition to the door opening
have functional handles on the kennel's exterior to prevent tilting and any direct contact with the animals
close securely, but not lock, to allow personnel to open it in case of emergency
display labels with the words "Live Animal" in 1-inch letters on the crate's top and on at least one side
display upright arrow labels indicating kennel's correct position;
contain bedding, shredded paper or towels to absorb "accidents"
contain two dishes (one for food and one for water) attached to the inside of the kennel door — they must be easily accessible to airline agents without opening the kennel door (see also Popware Collapsible Kennel Bowls)
display feeding instructions and food, if applicable — these instructions should be affixed to the top of the kennel, along with shipper and consignee information
Remember to introduce the kennel to your dog in a positive way a few weeks before his flight. For example, feed your dog in his new kennel.
Put some towels in the kennel to make it comfortable. Consider putting a used (unwashed) t-shirt of yours in the kennel so it has your sent on it.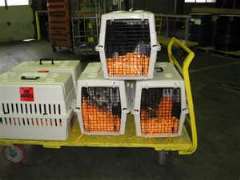 Arrive at the airport extra early
Allow extra time beyond normal check-in guidelines. You'll have to check in at the ticket counter – advance check-in, curbside or self-service check-in (e.g. online) is not allowed for you or your pet.
However, checked pets will not be accepted more than four hours prior to your flight time.
You might be asked to complete a checklist with an agent. Here are a few of the questions as examples:
Are separate food/watering dishes securely attached and accessible without opening the kennel?
When was the last time the pet was fed and offered water?
Have you provided an original, valid health certificate for checked pets?
Can the pet sit, stand and rest comfortably without touching any of the sides of the kennel?
After you've purchased an appropriate carrier, write your dog's name on it and include identification tags with your home address and phone number as well as the address and phone number of someone who can be reached at your destination.
Carry a current photograph of your dog. If he's lost during the trip, a photograph will make it much easier for airline employees or the local authorities to search effectively.
Bring a leash and some treats with you to the airport and keep it in your carry on. Sometimes the TSA will ask you to remove your dog from the crate so they can check the bedding and pat down the dog.

When you board the plane
When you are boarding at the front of the plane, make sure to tell the pilot or have the attendants tell the pilot that your dog is flying down below as checked luggage.
Also, ask the attendants if your dog has made it on the plane.
Delta actually has you fill out little ticket stubs that the baggage handlers tear off when the pet has been loaded on, and the attendant will give you the stub as proof your pet is in the plane.
Upon arrival at your destination, ask your flight crew to please alert the ground crew that you have a pet traveling down below and to please be especially careful in handling that pet.
Tips for making the flight a bit more pleasant for your dog:
Consider having your dog wear a Thundershirt or other anti-anxiety shirt.
Give your dog a lot of exercise the day before, and prior to the flight. The more they sleep, the better. A tired dog is less likely to be anxious.If your dog gets the poops when nervous, consider feeding him fresh or canned plain pumpkin (not the pie filling) to firm up the poop the day before – it makes a case of the runs less likely.
Freeze a water in a dish that attaches to the crate, this way, your pet will have access to water throughout the flight, and it won't immediately get dumped out when the pet is being moved onto the flight.
Consider putting a zip log storage back of dog food and a leash and duck tape it to the top of the crate. In case there is a delay or layover, your pet will have food and a leash should he need to be let out for a potty break.
According to the American Veterinary Medical Association, in most cases, dogs should NOT be given sedatives or tranquilizers prior to flying because they can create respiratory and cardiovascular problems as the dog is exposed to increased altitude pressures.They can also alter the animal's natural ability to balance and maintain equilibrium, which can be dangerous when the carrier is moved.
Wonder what it's really like?
Check out this undercover video shot inside the crate flying Canadian Airlines!

ALSO READ: