Time for a road trip with your best friend? Dog car travel requires planning, whether it's the holidays, vacation, or a short trip.  Tossing your dog in the car might sound easy, but it isn't safe and could lead to an unpleasant trip.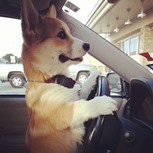 Here are a few of our dog car travel tips:
Ensure your dog has gone for a walk to do his "business" and burned off any excess energy they might have.
Don't feed or water your dog too much before the trip. I'll typically give my dog a very small meal before the trip. My dog will get sick if he has nothing in his stomach, but clearly you don't want your dog to be too full, because they could get car sick and throw up too. You've got to find the right balance for your dog.
Bring some treats &/or a bully stick. Rewarding them for good behavior is important. The bully stick or other food stuffed toy can also keep them entertained during the ride.
If it's a long car trip, make sure to take some breaks so your dog can walk and stretch out, as well as, do any "business" and drink a little water.
Make sure they are riding securely in your car. Here are a few options:
Clickit Utility Dog Harness from Sleepypod
Unlike typical pet safety harnesses which are one-point in design, Clickit Utility is a three-point dog safety harness.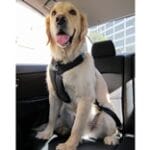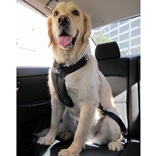 Similar in concept to the three-point seatbelt federally required in all vehicles, Clickit Utility's three points of attachment absorb force in a frontal collision by dissipating energy and keeps the dog in the car seat during impact.
Sleepypod's Clickit Utility was the Top Performer in the Center for Pet Safety test.
Noz2Noz Folding Nylon Travel Dog Crate
This lightweight and soft dog crate is ideal for travel or home. Set one up in the car to keep your dog safe while on the road, then take it out and use it at your destination.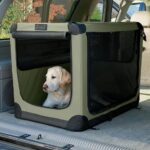 It's a safe, secure and convenient way to travel by car. Its lightweight construction facilitates easy portability and is quick and simple to pop up and fold down.
Snoozer Lookout Dog Car Seat
This car seat gives your dog the perfect place to either enjoy the passing scenery or curl up and take a nap while you're on the move in your car.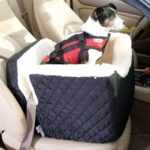 Your dog can ride along right beside you, providing him with optimum reassurance and comfort. For safety and security a connection strap is included for the seat belt to join to the harness.
Check out our Dog Travel section for more dog travel tips and products! Safe travels!
ALSO READ