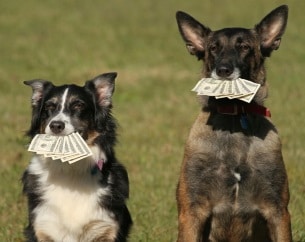 When we started Dogsized, our objective was to find amazing dog products for our Dogsized fans. We emphasize quality and design. There are so many bad dog products on the market, so we don't bother posting bad product reviews. If we tested and liked it, then we'll post it. If we tested it, but didn't think it was good enough for our readers, then we just don't publicize the bad review. We understand our readers are busy people, so no need to publish bad reviews, Dogsized only brings you the best!
At times we've noticed that some of our recommended dog products are on a terrific sale…so we're going to publicize it on this page. Bookmark it now!
Most of our products link to Amazon and Amazon regularly changes their prices, so these postings / announcements are going to be a time sensitive. Let us know if something is out of date. Also, let us know if you find another amazing product at a great price!
Enjoy the Special Savings!
Pet Head has a number of products at 50% OFF
Stella & Chewy's Freeze Dried Dog Food – Chicken – Reg. $58.99 – NOW $28.99
Hip Doggie Metro Metal Dog Collar – Reg. $46.79 – NOW $13.48
BestPet Folding Play Pen – Zebra Skin – Reg $89.99 – NOW $44.88
Action Water Resistant Dog Collar – Reg. $22.00 – NOW $3.77
Pet Head Oatmeal Natural Shampoo – Reg. $27.65 – NOW $8.46
Isle of Dog, Dog Shampoo for Yorkies, Beagles and Spaniels – Reg. $12.99 – NOW $7.79
Double-Door Folding Metal Dog Crate – Reg. $129.99 – NOW $54.17
Star Spinner Dog Treat Toy – Reg. $24.99 – NOW $11.68
Dog Water Fountain by Dogit Design – Reg. $114.99 – NOW $56.00
Pet Exercise Pen – Reg. $95.49 – NOW $40.56
Spellhound Witch Dog Costume – Reg. $18.99 – NOW $2.99
PetZoom Pet Park Deluxe Dog Relief System – Reg $99.00 – NOW $49.99
To clarify, we're not giving you any price guarantees, but when we looked at these recommended products on Amazon, they were over 50% off. You might as well grab it at a +50% discount while it's available.
We will update this post as quickly as possible. Please let us know if any prices are out of date or any other amazing sales. Thanks!