We take our dogs everywhere, so prepping for the road and getting ready for dog car travel is essential. As such, it's good to be prepared with the right dog car travel products to ensure a smooth trip with your best friend.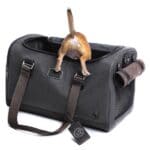 We've hand-picked these top-quality, well-designed dog car travel products.
Often the below styles are available in other colors or sizes.
Dog Products for Car Travel
Dog Water Bottles
Dog Travel Bowls
Everything is linked for easy purchase: