"Dear Dogsized, My father's border collie is constantly harassed by mosquitoes. Are there any dog-safe products for Charlie? – Kiku"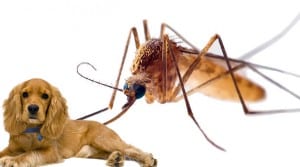 Mosquitoes are definitely a problem for dogs! Not only do mosquitoes harass and bite dogs (as they do humans), mosquito bites can result in everything from an annoying itch to more serious parasitic diseases. Mosquito bites are also a primary cause of heartworm in dogs. If your dog has more hair (e.g. a chow) then they have more natural protection than say a bit bull or "bully" breeds. Regardless, those areas that show more skin e.g. nose, ears, eyelids, abdomen, groin and inside the legs are more prone to getting mosquito bites (and can also get sunburn).
There are plenty of things you can try to change in your environment to reduce the amount of mosquitoes, for example, avoiding stagnant water, using products containing oil of sandalwood or citronella and staying inside, especially in the early morning and early evening, when mosquitoes are most active.
Mosquito Repellent for Dogs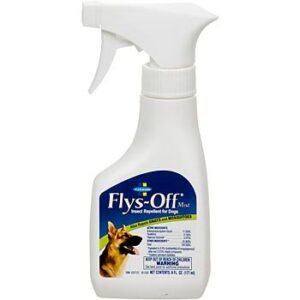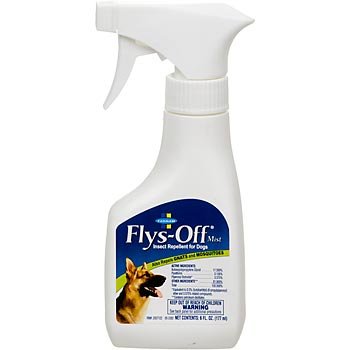 To protect your dog, do NOT use human mosquito repellents containing DEET on dogs. Instead, look for repellents formulated especially for pets that contain either permethrins or pyrethrins. Here are some dog mosquito repellent products for your dog to try:
– Flys Off Spray
– Flys-Off Fly Repellent Ointment
– Pet Naturals of Vermont Protect Flea & Tick Repellent Spray
– All Terrain Natural Pet Herbal Armor Insect Repellent Spray
Even if you use a mosquito repellent, make sure your dog is taking a heartworm preventative, such as Heartgard Plus, and also a topical treatment and prevention of ticks, fleas, mosquitoes, biting flies, and lice, such as K9 Advantix II.(see also our article on Advantix vs Frontline).
Mosquito Bite Treatment
Luckily there are some solutions to help your dog if he does get bitten. Treat bites with an antibacterial cream (e.g. Neosporin) to keep them from becoming infected. To help with the itchiness, you might also want to try Sulfodene or a Pet Hydrocortizone (Zymox).
Please see your veterinarian if the bites appear very large (i.e. possibly something in it) or if they do not heal or appear to be getting worse.