As pet owners, we all love having our pets at home but dealing with shedding can be frustrating. Luckily, there are several shampoos available in the market that claim to control excessive shedding in pets. Earthbath Shed Control Shampoo is one of these products, and it's gaining popularity among dog owners.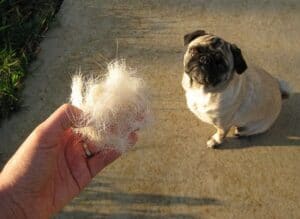 However, the question arises: does shed control shampoo really work? In this article, we'll take a closer look at Earthbath Shed Control Shampoo and explore whether it lives up to its claims.
Does Shed Control Shampoo Really Work?
Pet shedding can be a nuisance, especially during certain times of the year. Shedding can create a mess in your home and lead to allergies, respiratory problems, and other health issues.
That's why many pet owners turn to shed control shampoo to mitigate the problem. But does it really work?
Shed control shampoos contain ingredients that are designed to reduce shedding by strengthening hair follicles and preventing excessive hair loss.
Some of the common ingredients found in these shampoos include omega-3 fatty acids, vitamin E, and natural oils like lavender, rosemary, and chamomile.
While shed control shampoo may provide some relief for pets that shed excessively, it's important to remember that it's not a magic solution.
Is Dog Shed Control Shampoo Effective?
The effectiveness of the shampoo varies depending on the individual pet's coat, diet, and health condition.
In some cases, shedding may occur due to underlying health problems that require veterinary attention.
It's also important to note that using shampoo alone may not be enough to control shedding. Regular brushing, a healthy diet, and keeping your pet hydrated can also help reduce shedding.
In conclusion, while shed control shampoo may help reduce the amount of hair your pet sheds, it's important to use it in conjunction with other measures and be aware of its limitations.
About Earthbath Shed Control Shampoo and Conditioner
Just in time for Earth Day and spring shedding season, one of our favorite eco-friendly dog brands, Earthbath, has come out with a new Shed Control Dog Shampoo and Conditioner.
Based on their popular Green Tea and Aloe Shampoo, they reformulated it into an even more effective Shed Control Shampoo.
One of the secret new ingredients is fair trade organic shea butter, which is wild –gathered and cold-pressed by the rural Uganda Shea Processor's Association (NUSPA), a cooperative run by women in rural Uganda.
So not only is this an environmentally friendly product, but it's also a product that supports communities in need. Don't you wish more companies were this compassionate?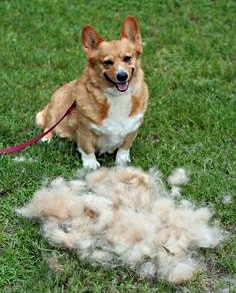 Earthbath Shed Control Dog Shampoo is a pH-balanced, soap free, antioxidant formula. It also contains green tea leaf extract, ginseng, omega-6 fatty acids, awapuhi and other natural humectants and emollients.
These all-natural ingredients nourish and detoxify skin and rejuvenate coats while controlling excessive shedding, dander and other associated allergens.

Earthbath Shed Control Conditioner is a vegetable-based conditioner which uses organic shea butter and allantoin to moisturize and nourish your dog's skin and coat. Glycerin and phytantriol ingredients promote moisture retention. Antioxidants repair and keep skin healthy.
All together it's create a great smelling product that detangles and provides relief from excessive shedding and dander leaving your dog's coat healthy and beautiful.
Earthbath Shed Control Dog Shampoo and Conditioner will not wash off topical flea applications – so post bath you should end up with a flea-free, shed-free gorgeous dog!