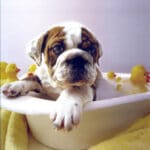 Our dog grooming category exploded to over 100 products, so we realized we needed to sort these supplies to make it easier to find amazing products, which have been curated just for our Dogsized fans! You will find new dog grooming categories:
We also have a few special product selections for deshedding. There are also some unusual, but helpful products such as paw and snout balm (great for the dry winter).
These items have been curated by finding products that have great ingredients and reviews. If you have a great product that you would like to tell our Dogsized fans about, please contact us!


Have a favorite dog grooming product?
Let us know! We're always looking for great dog products!
Please email us at: