For the pet owner that loves to pamper their pooch, your dog can now get a blueberry dog facial! While this may sound like it's just a fad, we think it might be here to stay because there really are some great benefits, such as, treating tear stains, improving dry skin and brightening your dog's coat.
We've been hearing about these trendy blueberry dog facials and wanted to learn more. So we sat down with the Seaport Paw, where they offer the famous blueberry facial using the original South Bark Blueberry Shampoo, to get the scoop:
We've heard that blueberry facials for dogs are all the rage. What's the difference between having a blueberry facial and just cleaning / shampooing your dog's face?
The difference between a blueberry facial and just cleaning/shampooing your dog's face is in the product itself. The blueberry facial not only cleans your dog's face but it has a natural exfoliating activity and is slightly hydrating.
If the product is used like a mask, how long does it need to stay on your dog's face?
The blueberry facial can be used similar to a mask and you could leave it on for 5 minutes, especially if you need to massage any folds or work on any tear staining.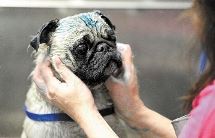 If you have a dog with light colored hair, is there a chance the hair can be stained blue?
It will not cause any staining of a dog's coat.
If it's great for a dog's face, why not use it as an all over shampoo?
The blueberry facial is also a hypoallergenic, tearless and a lick-safe shampoo. It can be used as a whole body shampoo and brightener, as a special request. White coat dogs can look even brighter when we use this product as a shampoo.
Is the blueberry facial helpful for any specific dog skin issues?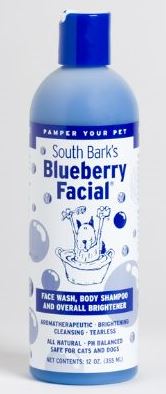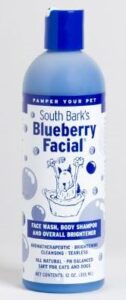 The blueberry facial can help with various skin issues such as dry skin or itchy skin due to the coconut oil and aloe vera in the shampoo.
If you want to try out the Blueberry Dog Facial and are in the NYC area contact the Seaport Paw. We think they're great – our dog Kobi gets his haircuts and grooming done there.
If you don't live in the area, you can get the original Blueberry Dog Facial by South Park online – click here!
Ingredients: coconut oil, jojoba, aloe, blueberry extract, avocado, and vitamins A, D, & E. Made in the U.S.A.
Other Brands You Can Try: